Dentsu Announces Personnel Changes of Board Members and Executive Officers for FY2021
November 11, 2020
Dentsu Inc. (Headquarters: Minato-ku, Tokyo; President & CEO: Hiroshi Igarashi; Capital: 10,000 million yen) announces that the Board of Directors today adopted a resolution approving the following Personnel Change of the Board Members and Executive Officers effective January 1, 2021. 
1. Directors, Members of the Board, and Corporate Auditor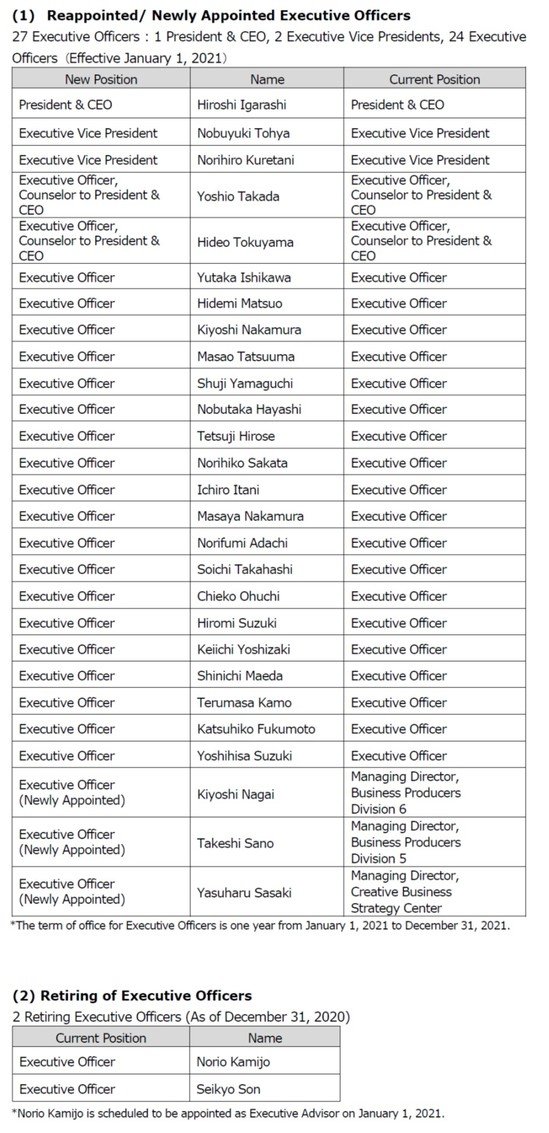 3. Appointment of Executive Professionals (EP)
The company will appoint six Executive Professionals for FY 2021.
The Executive Professional System is designed to acknowledge individuals with exceptional talent in specific areas who have made significant contributions to Dentsu Inc. By providing EP with an environment and position equivalent to or higher than that of an Executive Officer, the objective is to exercise greater use of their talent to create enhanced solutions.
There are four grades with one-year term (January to December). Executive Professionals are appointed each year.
Executive Professionals:
1. Chief Executive Professional (CEP)
2. Senior Prime Executive Professional (SPEP)
3. Prime Executive Professional (PEP)
4. Executive Professional (EP)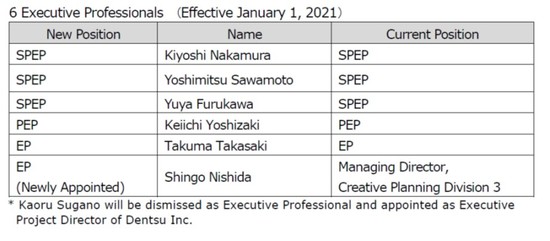 **************
Contact

Contact: Shunsuke Matsushima
               Corporate Communications Division
               TEL:03-6216-8041
               Email:koho@dentsu.co.jp