Dentsu considers environmental issues a key CSR issue. The environmental management system Dentsu Eco Program sets out an environmental policy and environmental targets to advance company-wide efforts for environmental protection. These efforts have been recognized and Dentsu was certified as an Eco-First Company by the Ministry of the Environment. Dentsu will continue to advance environmental protection activities not only through internal activities, but also through efforts in cooperation with our stakeholders and the implementation of environmental communications, in order to contribute to the realization of a sustainable society.
Structures for Environmental Activities
The Dentsu Group Efforts
At Dentsu, environmental managers advance Group-wide efforts for the environment. CSR promotion committee members advance environmental activities at respective Dentsu divisions. At each Group company, board members in charge of the Eco Program, environmental managers, supervisors, and promotion committee members are appointed to advance environmental activities. In 2005, we adopted the Dentsu Group Eco Program and acquired ISO 14001 certification. Integrated Group certification that included subsidiaries in Japan acquired certification in 2006. As of January 2021, Dentsu and domestic 20 Group companies hold this certification.
Eco-First Commitment (Revised)
Dentsu presented an updated Eco-First Commitment to the Minister of the Environment in its next step toward realizing a sustainable society on a global scale.
The document was submitted in October 2017, and cited the following three points as focus areas.
We will work to increase awareness and promote understanding of social issues including environmental conservation, to achieve the United Nations 17 Development Goals.
From the viewpoint of environmental conservation, we will positively and proactively ascertain problems, share information and find solutions.
We commit to gradually advancing the reduction of the environmental footprint related to our business activities.
Related Information
Dentsu Updates "Eco-First Commitment" Working with stakeholders, aiming to realize a sustainable society on a global scale
Environmental Policy
The Dentsu Group aims to base on the Dentsu Group Code of Conduct, reduce the environmental burden generated through its business operations in order to contribute to the realization of a sustainable society.
In order to realize a sustainable society, correctly assess the environmental impact of its business activities and work to reduce its burden on the environment.
Work to develop and propose environmentally conscious business activities and contribute to the improvement of environmental issues.
Ensure thorough implementation of environmental compliance and engage in ongoing improvements to boost environmental performance through more precisely defined environmental objectives and outcomes.
| | |
| --- | --- |
| Environmental Protection | Actively endeavor to prevent pollution, alleviate climate change, and conserve biodiversity and ecosystems. |
| Environmental Communication | Actively engage in environmental education for the next generation and environmental communication activities to business partners and employees to raise recognition of environmental issues. |
Environmental Objectives
Promotion of activities to business partners, consumers and employees to raise recognition of environmental issues
Promotion of activities to prevent global warming and conserve ecosystems
Maintaining waste reduction and recycling at a high rate
Raising Environmental Awareness
SDGs Award
The Dentsu Group each year confers an SDGs Award to encourage Group-wide sustainability initiatives. Employees are urged to share relevant knowledge and bolster sustainability-related activities, with those considered outstanding being commended.
Helping Employees Acquire Various Certifications
Dentsu actively encourages its employees to take the Certification Test for Environmental Specialists (Eco Test), sponsored by the Tokyo Chamber of Commerce and Industry, and has done so since the test was the first offered in 2006. The goal is to nurture, with a broad range of environmental knowledge, those employees who will play a leading role in addressing environmental issues. Additionally, in 2021 we began recommending the Environmental Kaorista Test, which can be taken online.
SDGs Slogan Solicitation
Each year, the Dentsu Japan Network solicits SDG-related slogans from employees and their families at each Group company. Ideas considered outstanding are selected and awarded prizes.
In fiscal 2021, a total of 3,914 entries were received (3,600 from employees and 314 from family members).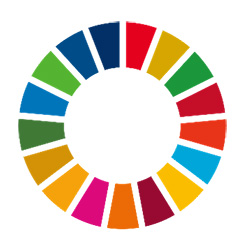 Reducing CO2 Emissions
Energy-saving at Office Buildings
The Dentsu Head Office Building in Tokyo's Shiodome district is replete with cutting-edge equipment chosen to fit the concepts 'built to last a century,' 'harmony with the global environment,' and 'energy efficiency.' The building incorporates more than 30 energy efficiency-related systems.
[Principal Facilities]
Wind turbines and solar-power panels / LED lighting / air-flow windows / cogeneration system / water recycling system / green space development / improved air conditioning control system program / insulating jackets for cold water plate heat exchangers / waste water recycling systems
Raising Recycling Rates through Trash Separation
In an effort to raise recycling rates by means of the more careful separation of trash, Dentsu has placed collection centers—eco counters—on each floor of its Head Office. At the same time, to raise awareness about the benefits of recycling, the Company has posted rules regarding trash separation as well as a recycling chart.
Trash generated in the office is placed in bins separately colored for recyclables, non-recyclables, and hazardous materials (such as batteries and box cutter blades). Detailed rules are posted nearby regarding disposal methods.
CO2 Emissions (Dentsu)