Dentsu pursues CSR activities while maintaining close communication with its stakeholders. To achieve "an invitation to the never before" address social issues, Dentsu undertakes a variety of activities aimed at fulfilling its responsibilities not only to Group employees, consumers, clients, shareholders and investors, but also to society as a whole and the Earth's environment.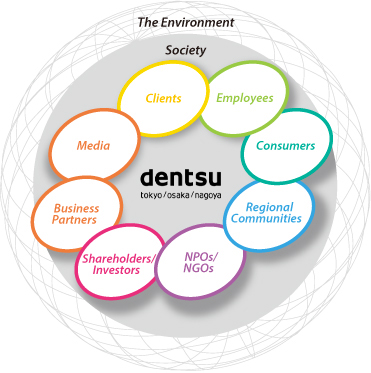 Clients
Dentsu understands client needs and provides high-quality solutions. Through our efforts linked to issues with a strong social aspect, we also contribute to the realization of a sustainable society.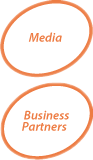 Media / Business Partners
Dentsu supports proper business activities through fair competition and business dealings. When placing an order, we clarify the decision-making process, with due consideration to not just economic factors, but compliance and environmental issues as well, in an effort to be socially and environmentally conscious.

Shareholders / Investors
Dentsu, through proper investor relations and its General Meeting of Shareholders, actively pursues communication with shareholders, and provides accurate information disclosure. When disclosing information we take care to ensure that our communications are easy to understand, impartial, and appropriate for the circumstances.

NPOs / NGOs
Dentsu, through cooperation with external organizations and persons with social value and expertise, proactively contributes to society, and furthers the realization of a sustainable society.

Regional Communities
Dentsu respects the cultures and customs of the countries and regions in which it operates, works to build mutual understanding and trust, and contributes to development. We also strive to understand and find solutions to social issues through our business activities.

Consumers
Dentsu gives appropriate consideration to the safety of consumers, and provides high-quality solutions. We also conduct a wide range of consumer surveys and other analyses in an effort to identify consumer issues.

Employees
Dentsu actively supports human resources and career development for its employees, working to bring out their individuality, abilities, and work motivation. We also strive to create a work environment that fosters the mental and physical health of employees.
※ Dentsu has numerous stakeholders, including governments, administrative agencies, and many organizations.