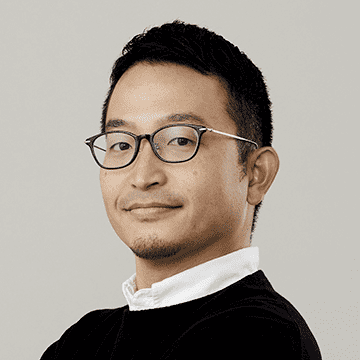 As society undergoes substantial changes, the world of advertising, which has been Dentsu's field of business since its founding, is also changing significantly. To continue contributing to the growth of client companies and the resolution of social issues, Dentsu is accelerating its AX. Below, we introduce some solutions that are part of the Company's ongoing change.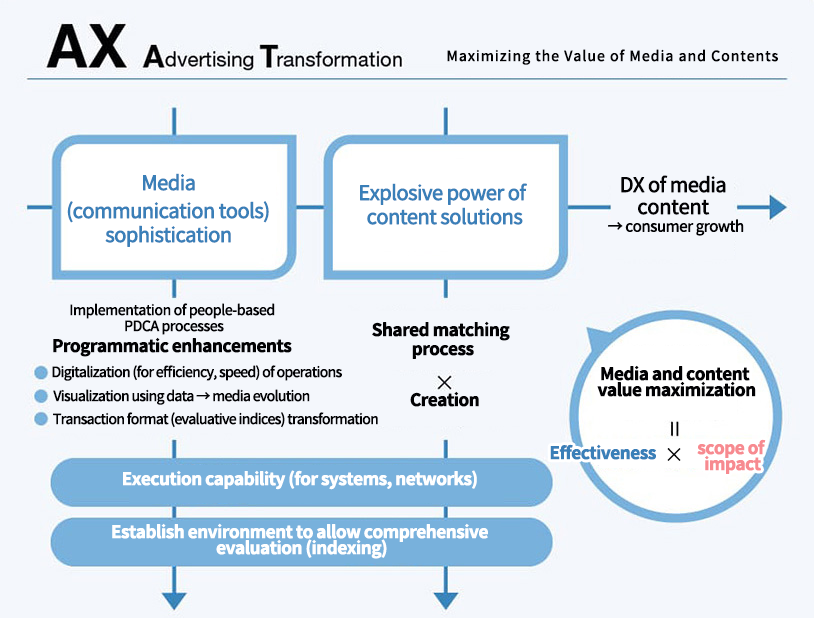 Content-based Solutions
Dentsu prides itself on efforts focused on sports, animation, music, games, and other entertainment content, all of which demonstrates individuality, even at the global level.
Given that efforts to provide client companies with solutions based on entertainment content are a priority in the AX domain, in January 2021, we launched a content solutions project that cuts across all the Company's divisions.
By focusing on ideas and creativity, we produce content solutions. These require left-brain skills that analyze and narrow both the focus of value provided by content, as well as client company corporate and business issues. At the same time, right-brain skills play an important role, enabling giant leaps forward based on creative ideas.
Content refers to wide variety of things and cannot be expressed in a single word. Content can elicit affection, peace of mind, excitement, and enthusiasm. Some of it, such as anime, can run for decades, while other forms may last only a single evening, such as massive sporting events.
Further, we can provide client companies with many different assets and, even when content varies, we can classify and organize within the same framework the value that the content provides.
At the same time—and again using the same framework—we can classify and organize corporate and business issues facing client companies. This results in shared awareness of know-how that matches the needs of client companies and their business issues.
Expert employees—from our Sports Division, Content Business Division and several media divisions—take part in content solution projects to promote the sharing and integration of expertise from each division. Thus, for example, we have started to incorporate in initiatives with publishers some of the proficiency acquired from initiatives involving sports organizations. I believe this step has garnered a tremendous response.
Efforts to narrow our focus by accurate matching are expected to yield solutions producing an massive impact, based on ideas generated by creators particularly well suited to each initiative.
Elite creative department members, who are well able to assign staff, participate in the content solutions projects. We thus are able to leverage a host of professionals by transcending divisional borders to set up a structure that provides client companies with outstanding content solutions.
Business Model
Rather than being satisfied with pursuing its own profit, Dentsu's philosophy includes the concept of mutual growth. As a result, content solutions involve efforts to realize three-way satisfaction, by simultaneously committing to the growth of content, to that of media companies and other partners, as well as to that of client companies.
Allow me to explain the ideal business model for content solution projects. The starting point is our commitment to growth through the implementation of business transformation (BX) and digital transformation (DX) among content companies, media companies, and other Dentsu partners. This might involve, for example, the development of digital services for time-honored magazines published by long-established publishing companies. Or it could mean the development of new ways to enjoy live sports broadcasts and of fan clubs that deepen bonds between anime works and fans, connecting fans to one another.
We combine the new assets of partners, who have grown through our above efforts, with outstanding creative ideas and provide this blend to client companies. Such content solutions ensure three-way satisfaction.
At times, we will propose new business ideas to a partner. If the ideas are adopted, we will play an active role in the enterprise, investing capital, employees, and other of our assets. In this way, we realize our own BX through an approach that embodies, and is in harmony with, the concept of partnership.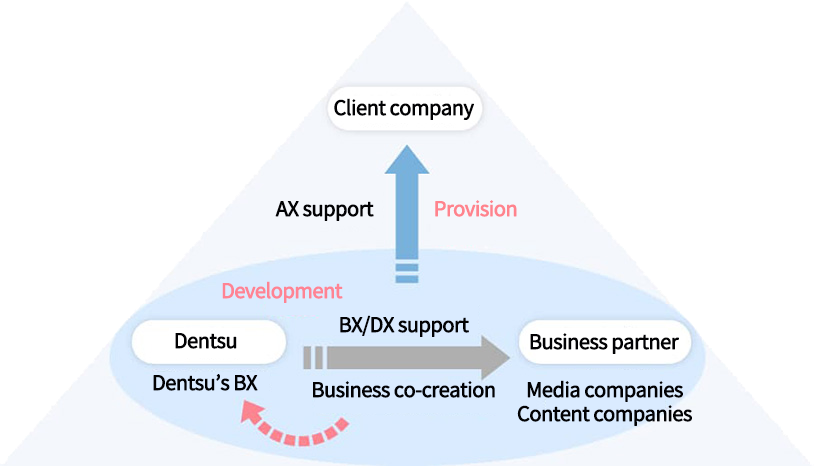 NewsPicks Studios, an online video planning development and production company, was set up in 2018 as a joint venture between Dentsu and NewsPicks, Inc. It is a good example of three-way satisfaction.
NewsPicks Studios aims to boost the growth of socio-economic media enterprise NewsPicks, launched in 2013, to make economics more interesting. NewsPicks supports the BX space by transforming print media into media incorporating video. At the same time, it reflects Dentsu's bid to achieve BX by taking on the challenge of setting up our own independent media business.
As business continues to evolve, NewsPicks's services have garnered the support of a wide range of users, including the digital natives of Generation Z and a number of our client companies.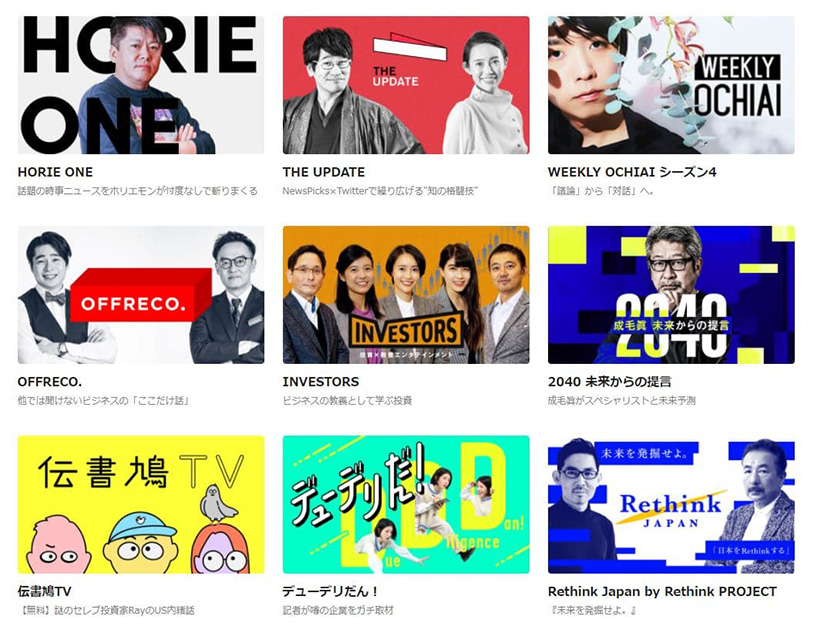 Since many clients have selected News Picks as their partner, indicating that we are contributing to the AX space, we will continue striving to improve the quality of advertising content and services.
Social Value Relationships
From Give-and-take to Co-creation
As we apply three-way satisfaction business models, we sometimes consider whether we shouldn't, perhaps, prioritize work for partners and client companies, rather than that for ourselves.
So, for example, were the overall work result 100%, should the ratio be 60:40 for partners and client companies, or 40:60 for the partners and client companies?
Moreover, using the above overall work result analogy, we at Dentsu believe that our hard work and expertise should raise the baseline figure for achievement from 100% to 150% or, better still, to 200%.
To exceed the 100% level, Dentsu will lead partners and client companies from give-and-take relationships to those of co-creation that have social value, all the while maintaining a careful watch on society and consumers. This, we believe, is the most exciting aspect of content solutions and one of Dentsu's social missions.
Dentsu is committed—with a sense of mission and determination—to developing culture and expanding the esports market, a symbol of diversity that enables all to compete on an equal footing, regardless of nationality, gender, age, or physical ability.
To this end, Dentsu collaborated with TV TOKYO and other partners and client companies to create the STAGE:0 tournament. It is used to decide the best high schools in Japan, setting a goal for children thought to have the potential to be Japan's future esports leaders.
The aim is for STAGE:0 to become, for the esports world, a national championship similar in popularity to the annual nationwide high school baseball tournament, which has long been a circle of support for family members and school officials.
The first STAGE:0 tournament, held in 2019, attracted entries from 1,475 schools, with 4,716 players in 1,780 teams. The number of entries has increased each year since, the 2021 competition having drawn the participation of 5,675 players in 2,234 teams from 1,960 schools, making it the nation's largest high school esports competition.
Some of the high school students who participated in the past have been chosen to join professional teams and even to represent a national team. The attendant media coverage has raised awareness about, and focused attention on, esports overall.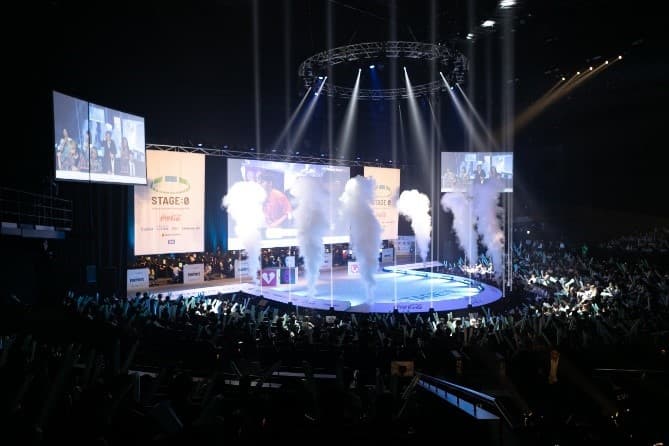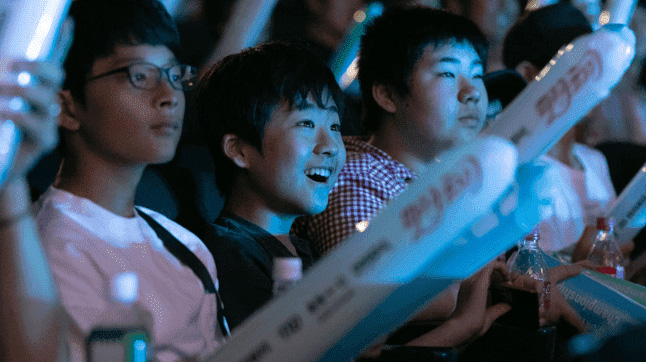 STAGE:0 has received high praise from many of our client companies, including Coca-Cola (Japan) Company Limited. Clients see AX as an opportunity to strengthen engagement with Generation Z.
At the same time, tournaments and client companies have successfully developed relationships aligning Japanese esports with the social value of supporting high school adolescents over the medium to long term.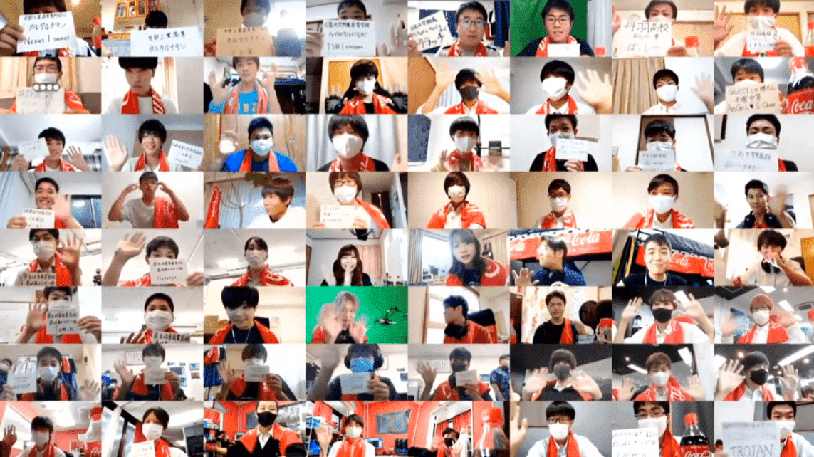 We hope you are looking forward to learning about the many great things that will result from Dentsu AX, as we continue to develop content solutions.
Author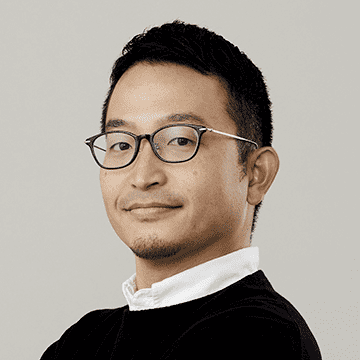 Yusuke Nii
Content Business Design Center
Chief Producer
Content Solution Network Organizer
He was appointed to his current position after having worked in three divisions: TV, media-based solutions planning, and content investment and production. Arai's current mission is both to resolve client company issues by using content-based solutions, and to support the growth of content through alliances with client companies.