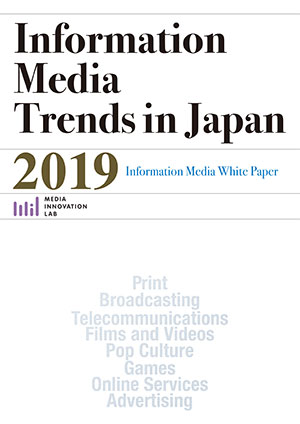 Information Media Trends in Japan 2019
Dentsu Media Innovation Lab
Table of Contents
Preface
Overview of Japan's Media Industries
Sector-Specific Statistics and Trends
1 Print

Newspapers
Books and Magazines

2 Broadcasting

Public Broadcasting and Free-to-air Broadcasting (Terrestrial)
Multi-Channel Platforms (Satellite, CATV, and IPTV)

3 Telecommunications

Telecom Carriers and Internet
Mobile Communications

4 Films and Videos

5 Pop Culture

6 Games

Console Games
Arcade, Online, and Mobile Games

7 Online Services

Online Distribution and Websites
E-Commerce and Electronic Money

8 Advertising

Advertising Expenditures
Internet Advertising

Appendix

Information Media Trends in Japan 2018
Dentsu Media Innovation Lab
Table of Contents
Preface
Overview of Japan's Media Industries
Sector-Specific Statistics and Trends
1 Print

Newspapers
Books and Magazines

2 Broadcasting

Public Broadcasting and Free-to-air Broadcasting (Terrestrial)
Multi-Channel Platforms (Satellite, CATV, and IPTV)

3 Telecommunications

Telecom Carriers and Internet
Mobile Communications

4 Films and Videos

5 Pop Culture

6 Games

Console Games
Arcade, Online, and Mobile Games

7 Online Services

Online Distribution and Websites
E-Commerce and Electronic Money

8 Advertising

Advertising Expenditures
Internet Advertising

Appendix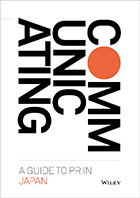 Communicating: A Guide to PR in Japan
Dentsu Public Relations Inc.
Table of Contents
Part 1: Media in Japan
A comprehensive overview of Japan's media landscape, from the continuing power and influence held by the domestic mainstream media, to negotiating Japan's arcane press club system, key features of local social media usage.
Part 2: Communicating with Your Stakeholders
Specific approaches to identifying and communicating with the target audience, including research, internal communications, B-to-B and B-to-C strategies, investor relations, public affairs, corporate citizenship, crisis communications and advertising.
Glossary & Appendix
A collection of key Japanese terms, illuminating data on Japan, and useful contact information.
Product detail
Author : Dentsu Public Relations Inc.
Price : JPY3,500 (Excluding tax)
ISBN : 978-4-939028-50-2
Release Date : March 1, 2018
Release Date (Electronic edition) : April 25, 2018
Publisher:Wiley Publishing Japan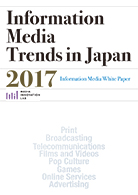 Information Media Trends in Japan 2017
Dentsu Innovation Institute
Table of Contents
Preface
Overview of Japan's Media Industries
Sector-Specific Statistics and Trends
1 Print

Newspapers
Books and Magazines

2 Broadcasting

Public Broadcasting and Free-to-air Broadcasting (Terrestrial)
Multi-Channel Platforms (Satellite, CATV, and IPTV)

3 Telecommunications

Telecom Carriers and Internet
Mobile Communications

4 Films and Videos

5 Pop Culture

6 Games

Console Games
Arcade, Online, and Mobile Games

7 Online Services

Online Distribution and Websites
E-Commerce and Electronic Money

8 Advertising

Advertising Expenditures
Internet Advertising

Appendix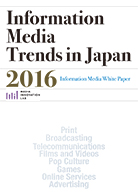 Information Media Trends in Japan 2016
Dentsu Innovation Institute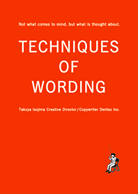 TECHNIQUES OF WORDING
Takuya Isojima
Table of Contents
Introduction
Chapter 1
Wording that does not communicate
Chapter 2
Wording that has been carefully thought out
Chapter 3
What does it mean to take your thought one step deeper?
Chapter 4
The four doors that make your thoughts deeper
Chapter 5
Wording to which the four doors give life
Chapter 6
Deepening your thoughts even further
Chapter 7
Things that interfere with the process of deepening your thoughts
Chapter 8
Last thoughts before the conclusion
Conclusion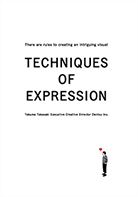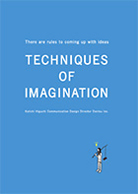 TECHNIQUES OF IMAGINATION
Keiichi Higuchi
Table of Contents
Introduction
Preface
The process of coming up with ideas
Chapter 1
Techniques of understanding
Chapter 2
Techniques of discovering
Chapter 3
Techniques of conversion
Chapter 4
Techniques of actualizing
Epilogue
More on technologies of detail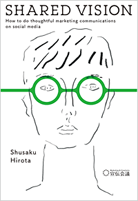 SHARED VISION [Kindle Edition]
Shusaku Hirota
Table of Contents
Preface to the English Edition
Introduction
Chapter 1
How Social Media Has Changed the Game
A Game with a Special Magic
Chapter 2
The Process of Connecting Consumers and Companies
Chapter 3
Managing the conversation
Chapter 4
From transmission to connection
Chapter 5
The Future of the Individual and the Organization: Shared Vision as the Compass
Afterword and Acknowledgements
Download (Sample)
Download (Sample)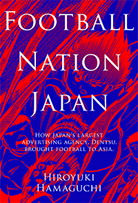 FOOTBALL NATION JAPAN
Hiroyuki Hamaguchi
Table of Contents
Preface
Dentsu
A Name that Runs through Football History
Chapter 1
"Football is the Ultimate Media" A Game with a Special Magic
Chapter 2
The Pioneer of a New Business: Football
Chapter 3
The Dawning of the Japanese Football Business
Chapter 4
ISL The Rise and Fall of a Sports Marketing Giant
Chapter 5
Japan and Korea Co-Host The Long Road to the 2002 FIFA World Cup
Chapter 6
The Culmination of the Rights Business The FIFA Club World Cup
Chapter 7
Believing in Asia's Potential Setting up the East Asian Football Federation
Chapter 8
Passion and Determination
Who Dares, Wins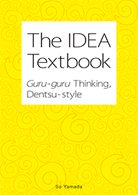 The IDEA Textbook Guru-guru Thinking, Dentsu-style
So Yamada
Table of Contents
Preface
Any IDEAs?
Chapter 1
Assessing the Circumstances
Chapter 2
The Philosophy behind Guru-guru Thinking
Chapter 3
Feeling Mode – Take it in with an "Uh-huh"
Chapter 4
Scattering Mode – Bear Solitude to Make it Work
Chapter 5
Finding Mode – When the Imagination Clicks
Chapter 6
Polishing Mode – Reconfigure Every Technology
Chapter 7
Thus IDEAs Become Addictive
Chapter 8
And Finally... Innovation
Commentary by Kenji Shiratsuchi