Dentsu Announces Its Corporate Venture Capital Fund Dentsu Ventures Investment in Exo, U.S. Developer of Food Products Using Cricket Protein
Investor Relations
International
April 25, 2016
Dentsu Inc. (Tokyo: 4324; ISIN: JP3551520004; President & CEO: Tadashi Ishii; Head Office: Tokyo; Capital: 74,609.81 million yen) announced today that Dentsu Ventures Global Fund I (hereinafter "Dentsu Ventures"), the Company's corporate venture capital fund, has made an investment in Exo Inc. (Head Office: New York; Co-Founders: Greg Sewitz and Gabi Lewis; hereinafter "Exo"), a U.S. developer of food products using cricket protein.
Dentsu Ventures was established in April 2015 with the objectives of investing in ambitious start-up companies that will create an as yet unseen future and furthering open innovation across the Dentsu Group through collaboration with investees. In addition to funding, Dentsu Ventures will support businesses and entrepreneurs by providing problem-solving solutions and resources that are unique to the Group. Exo is the sixth company in which Dentsu Ventures has invested.
Launched in 2014, NYC-based Exo makes nutritious, tasty and sustainable food products using cricket protein. The company currently manufactures nutrient-dense food bars, available in eight flavors, including: Cocoa Nut, Banana Bread, Apple Cinnamon, Blueberry Vanilla and Peanut Butter and Jelly. Formulated by a three-Michelin-starred chef, the bars are made using only simple, ultra-premium ingredients, and are intended as accessible vehicles for consumers to incorporate insect protein into their diets.
Crickets are one of the most sustainable and nutritious protein sources in the world--a revolutionary protein source with minimal environmental impact. Exo is leading the charge on insects as an alternative protein source, and Dentsu Ventures' investment echoes the company's focus on sustainable protein for the future. Dentsu Ventures will support the expansion and development of Exo in the U.S. and Japan.
Profiles of Exo and Dentsu Ventures and a photograph of Exo's protein bars are provided below.
Exo Protein Bars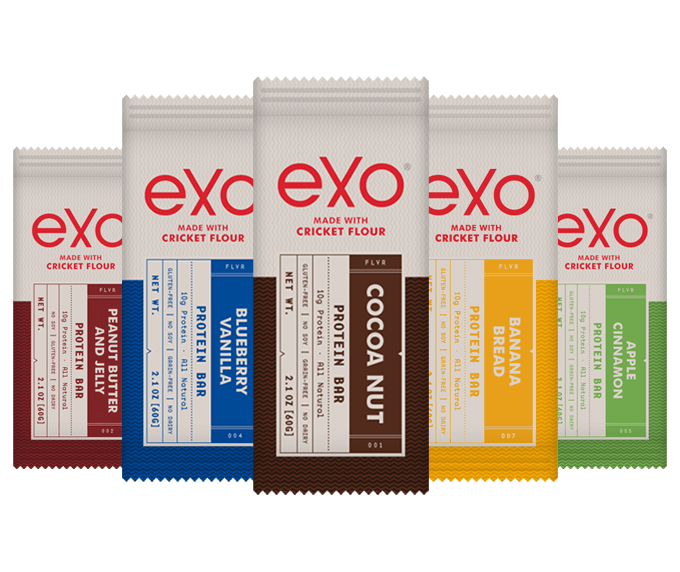 Profile of Exo
Company Name: Exo Inc.
Location: New York, New York, U.S.A.
Representatives: Greg Sewitz and Gabi Lewis (Co-Founders)
Number of Employees: 7
Line of Business: Exo is the leading company using insects as an alternative protein source in food.
URL: http://exoprotein.com/
 
Profile of Dentsu Ventures
Name: Dentsu Ventures Global Fund I
Total Fund Capital: Five billion yen
Date of Establishment: April 2015
Period of Operation: Seven-year period from April 2015 until March 2022
Investment Regions: Global investments with a focus on the U.S., Europe and Asia
Investment Stages: Balanced, wide-ranging investments with the focus on seed and early stage investments, but also including mid-stage and later-stage investments
Investment Areas: (1) Areas that can change the marketing and communication business in a broad sense  (2) New areas other than the above that have a high potential for innovation
URL: http://dentsu-v.com/
 
#####