Foreign Policy Magazine Names Two Dentsu Employees Among Leading Global Thinkers of 2016
December 13, 2016
On December 12, United States-based magazine Foreign Policy announced The Leading Global Thinkers of 2016. Among the list of 100 influential thinkers are two Japanese employees of Dentsu Inc., Akira Suzuki and Togo Kida. The two Dentsu members have been instrumental in the establishment of the Second Life Toys* project, which has won significant praise in Japan and abroad. The project was initiated as a way to generate awareness of low rates of organ transplant donations in Japan and to encourage more people in Japan to consider registering as organ donors.
https://gt.foreignpolicy.com/2016/?48bc61e167=

The Leading Global Thinkers is a list of 100 innovative, creative people. It is announced annually by the editors of Foreign Policy magazine. The list reflects contributions during the year to solving social issues, which has had an impact on the world underpinned by excellent ideas.
    
Past list members have included such top world leaders as President Barack Obama, Mark Zuckerberg, Steve Jobs, Bill and Hillary Clinton and Pope Francis. From Japan, those active in such fields as politics, business, the arts and literature have made the list in the past. These have included Joi Ito, Haruki Murakami and Shinzo Abe.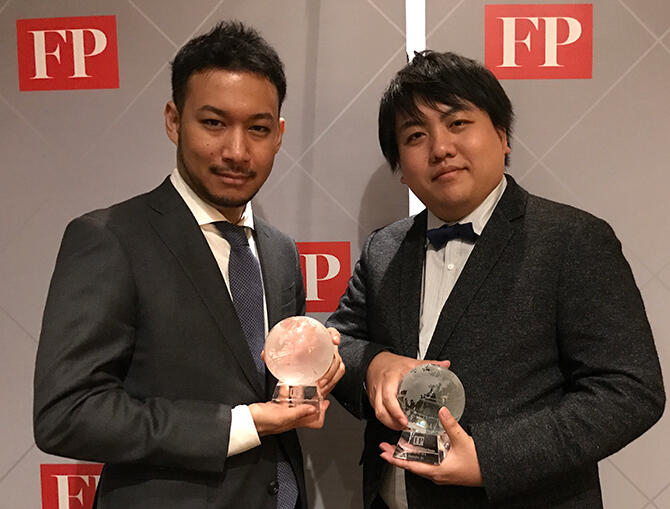 Kida (left) and Suzuki (right)

Profile
Akira Suzuki: Joined Dentsu in 2007, Marketing Solution Division (current)
Togo Kida: Joined Dentsu in 2007, Communication Design Center (current)


* Second Life Toys is an awareness and educational project that aims to deepen understanding related to organ transplants. The project operates a web site that collects cherished toys (to receive transplants) that the owners wish to be repaired, and connects these owners with people who wish to help repair toys (donors). For further details, please refer to http://www.secondlife.toys/

#####