Dentsu Named Network of the Year, Agency of the Year and Interactive Agency of the Year at ADFEST 2017
March 29, 2017
Dentsu Inc. (Tokyo: 4324; ISIN: JP3551520004; President & CEO: Toshihiro Yamamoto; Head Office: Tokyo; Capital: 74,609.81 million yen) was named Agency of the Year1 and Interactive Agency of the Year for the fourth year in a row at the 20th Asia Pacific Advertising Festival (ADFEST 2017)2 held from March 22 to 25 in Pattaya, Thailand. The Dentsu Group was also named Network of the Year.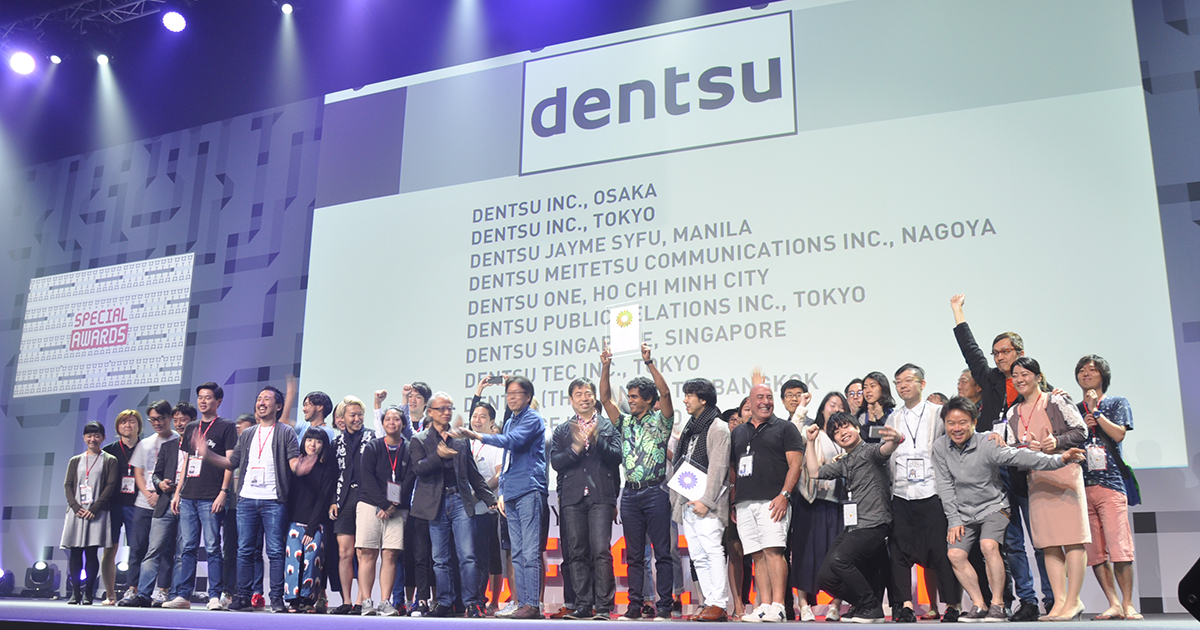 Dentsu Group companies won four Grande Lotuses, ten Gold Lotuses, seventeen Silver Lotuses, twenty-one Bronze Lotuses and one Branded Content Lotus, two Effective Lotuses and one Integrated Lotus for a total of 56 Lotuses across fourteen categories.

Branded Content & Entertainment Lotus:  1 Grande and 1 Branded Content
Design Lotus:                    4 Gold, 5 Silver and 6 Bronze
Effective Lotus:                 1 Grande and 2 Effective
Film Craft Lotus:               2 Gold, 1 Silver
Film Lotus:                        1 Gold, 5 Bronze
INNOVA Lotus:                  1 Grande
Integrated Lotus:              1 Integrated
Interactive Lotus:              2 Gold, 3 Silver and 2 Bronze
Media Lotus:                     2 Silver
Mobile Lotus:                    1 Grande, 1 Silver and 4 Bronze
Outdoor Lotus:                 1 Silver
Press Lotus:                      1 Silver
Print Craft Lotus:              2 Silver, 3 Bronze
Promo Lotus:                    1 Gold, 1 Silver and 1 Bronze

In addition to the above rewards a young director from Dentsu Creative X was selected as one of the Fabulous Four New Directors3.

Dentsu also created this year's festival logo in line with ADFEST 2017's theme "20 Years of Diversity" celebrating its 20th anniversary.

1. Dentsu Inc. was named Advertising Agency of the Year in 2011, 2012, 2014, 2015 and 2016. Dentsu Group creative agency Taproot (located in Mumbai, India; now Taproot Dentsu) received the award in 2013.

2. ADFEST was established in 1998 to focus on creative work in the Asia Pacific region, and has since built a reputation as one of the most prestigious advertising festivals in the world. According to the President of ADFEST, this year's festival welcomed 1,342 delegates from 72 cities and received 3,011 entries for awards in 18 categories: Branded Content & Entertainment, Design, Direct, Effective, Film Craft, Film, INNOVA, Integrated, Interactive, Lotus Roots, Media, Mobile, New Director, Outdoor, Press, Print Craft, Promo and Radio.

3. "Fabulous Four" is a project that ADFEST established to train young directors. Each year entrants are asked to submit a script for a 5-minute short film based on a specific theme. After a review by the Film Craft & New Directory jury panel 4 directors will be chosen. This year's ADFEST theme was "20 Years of Diversity".  



#####