LGBT Segment 8.9%, "LGBT" Penetration Rate Nearly 70%
Dentsu Inc. (Tokyo: 4324; ISIN: JP3551520004; President & CEO: Toshihiro Yamamoto; Head Office: Tokyo; Capital: 74,609.81 million yen) specialized organization in the area of diversity and inclusion, the Dentsu Diversity Lab (hereinafter "DDL"), conducted an extensive survey regarding LGBT and other sexual minorities (hereinafter "LGBT") in October 2018 involving 60,000 individuals aged 20-59 across Japan. This survey revealed that 8.9% of respondents identify as LGBT, and found a 68.5% penetration rate with respect to the term "LGBT."

The LGBT Survey 2018 also asked about affinity and acceptance trends by gender and age within the LGBT segment as well as the workplace environment, the influence of media and opinions on the creation of systems by government.

DDL also conducted LGBT surveys in 2012 and 2015, but this is a new survey conducted just before major international sporting events in light of the fact that the Tokyo Metropolitan government established a regulation prohibiting discrimination on the basis of sexual orientation or gender identity (SOGI) as well as the advance of systems created to promote understanding in each workplace.

This release introduces some of the findings gleaned from the survey. Note that in the survey, DDL classified sexuality into three categories: "biological sex," "gender identity" and "sexual orientation." Based on the DDL proprietary "sexuality map," respondents identifying as anything other than straight (heterosexual people with the gender and sexual identity they were born with, i.e. 2 and 10) are defined as LGBT*.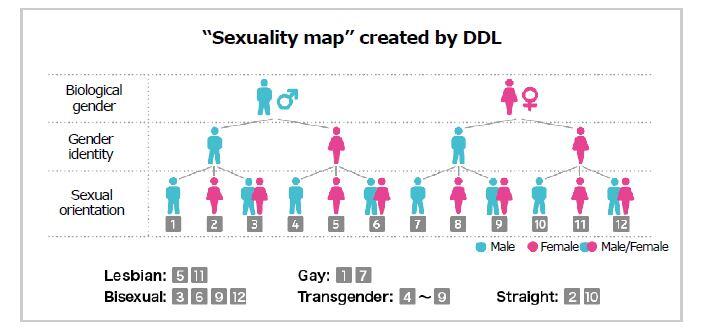 * The LGBT segment defined above also includes "Questioning (Q): individuals who are questioning or exploring their gender identity or sexual orientation" and other sexually minorities. Therefore, all the LGBT Surveys conducted by DDL in 2012, 2015, and 2018 are substantially LGBTQ+ Surveys.

1.LGBT segment = 8.9%
  8.9% of respondents identify as LGBT (compared to 5.2% in 2012* and 7.6% in 2015)
  We presume the increase since the 2015 survey reflects a greater general understanding due to a growing amount of information about LGBT topics, as well as the fact that young people, who are more familiar with LGBT topics, accounted for a larger proportion of respondents in this survey.
* The survey methodology used in 2012 differs from that used in 2015 and 2018, thus a simple comparison is not possible.

2. Penetration rate of "LGBT" approximately 70%
  Penetration rate of the term "LGBT" in the 2018 survey was 68.5%, a major increase of 30.9% compared to 37.6% in the 2015 survey. This growth trend was noteworthy among women (women: 70.9%, men: 66.2%) and young people (20s: 70.6%, 30s: 69.2%, 40s: 68.3%, 50s: 66.7%) (Graph 1).
  Not only did 76.0% of people recognize the term LGBT, they also expressed a desire to properly understand LGBT topics. (Graph 2)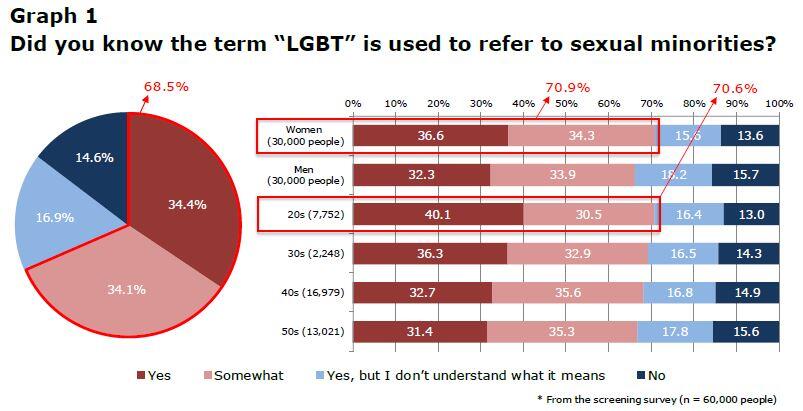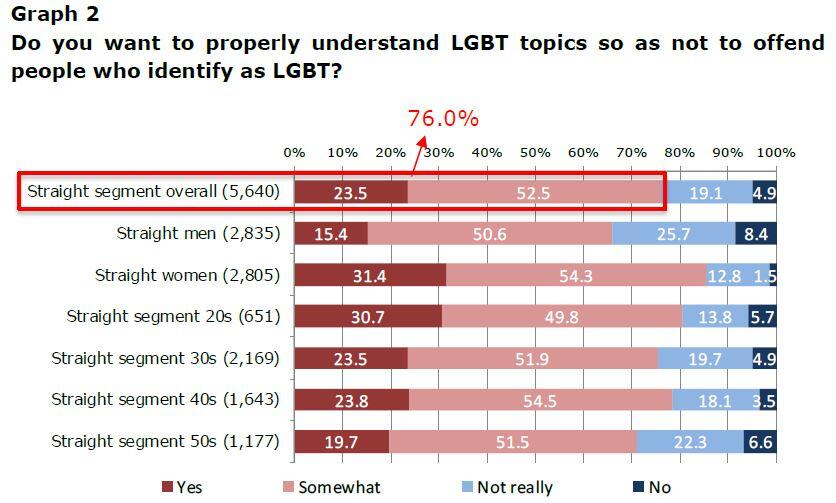 3. Room for improvements in the workplace
  For those in the LGBT segment, with respect to coming out to colleagues in the workplace (including bosses or subordinates) 50.7% are reticent and 21.1% are not. (Graph 3)
  In addition, 54.5% of the LGBT segment responded "there is no support system in the workplace"* and only 5.5% thought "there is a sufficient support system in the workplace."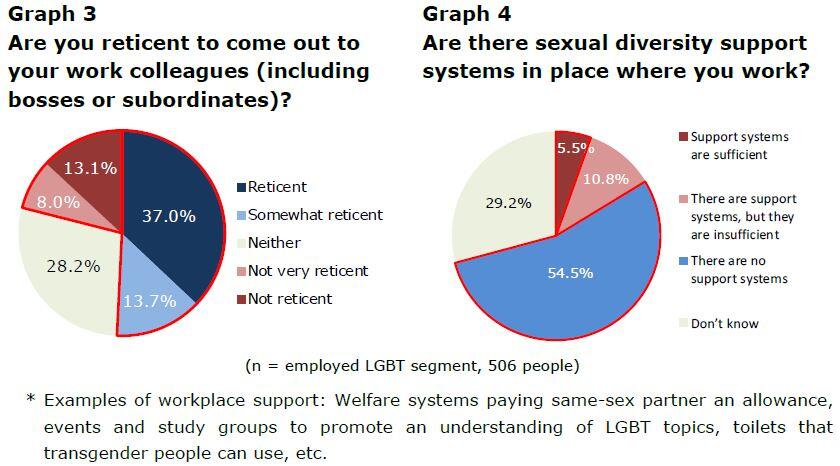 4. Over 70% of people approve of the creation of legal frameworks by the state or government
  78.4% of people approve of same-sex marriage, which is recognized in many developed nations. Women's approval (87.9%) is higher than that of men (69.2%) and tends to be high among younger people (20s: 87.3%, 50s: 72.5%) (Graph 5)
  82.7% of people approve of the Tokyo Metropolitan Government's anti-LGBT discrimination regulations. Further, 72.1% think more laws should be established for the entire country. (Graphs 6 & 7)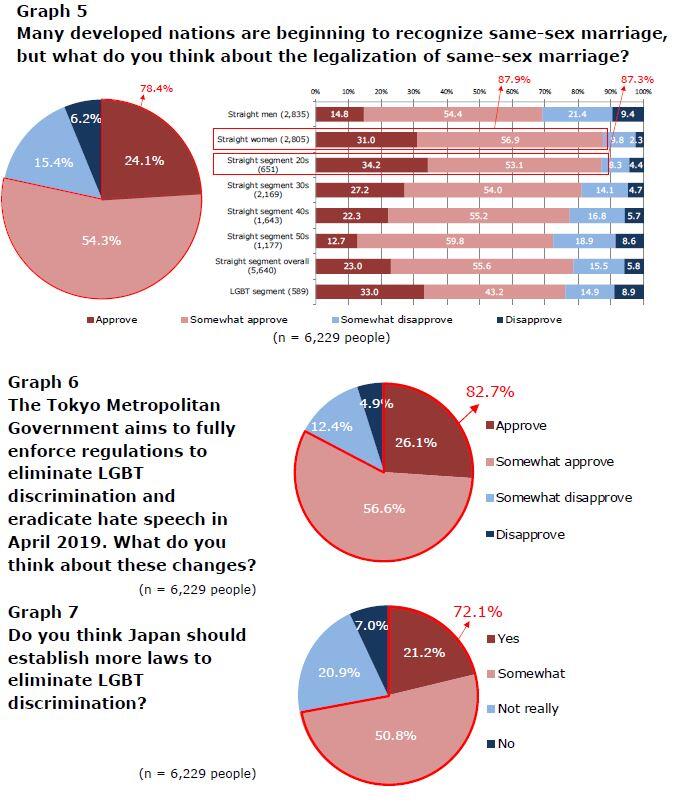 Pre-screening survey overview
・Targets: 60,000 people aged 20-59
・Target area: Nationwide
・Duration: Friday, October 26-Monday, October 29, 2018
・Method: Online survey

Dentsu LGBT survey 2018 overview
・Targets: 6,229 people aged 20-59
     (LGBT segment: 589 people, straight segment: 5,640 people)
・Target area: Nationwide
・Duration: Friday, October 26-Monday, October 29, 2018
・Method: Online survey
###
Contact
Media-related enquiries:
Shusaku Kannan
Managing Director
Corporate Communications Division
Telephone: +81 (3) 6216-8042
E-mail: s.kannan@dentsu.co.jp

Business-related enquiries:
Taeko Yoshimoto
Dentsu Diversity Lab
E-mail: t-yoshimoto@dentsu.co.jp