Dentsu Inc. Scoops Japan Agency of the Year with Three Grand Prix at Spikes Asia 2021
March 5, 2021
Dentsu Inc. was awarded Japan Agency of the Year at Spikes Asia 2021 with a total of 18 awards across 9 categories. Announced on March 4, the agency won 3 Grand Prix, 1 Innovation Spike, 1 Gold, 7 Silver and 6 Bronze. Dentsu Inc. also came in third for Asia Pacific Agency of the Year.
Meanwhile the Dentsu Group received Network of the Year at the festival with a combined number of 41 awards.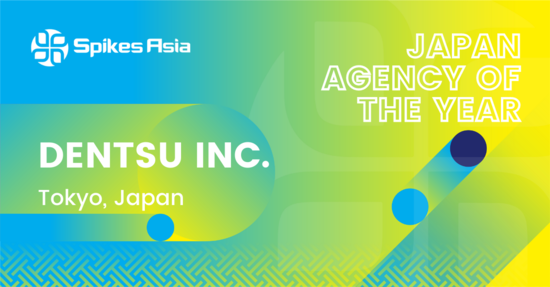 Dentsu Inc. award highlights: 
 - 2 Grand Prix wins came from the Digital and Digital Craft categories for Yokohama Hakkeijima Inc.'s "'The Ocean: Future Masterpieces' Exhibition"
 - "Language Sanctuary - Ad Space for Protecting Endangered Language" for Okinawa Times took another Grand Prix in the Print & Publishing category 
 - An Innovation Spike for Dentsu Tokyo's "Tuna Scope 2020" for Kura Sushi, Inc.
 - Dentsu Inc.'s young creative teams won first place in the online Young Spikes Film Competition and Integrated Competition respectively

* Spikes Asia Festival of Creativity: https://www.spikes.asia/
  Spikes Asia 2020 was cancelled due to the effects of Covid-19, and for 2021, the festival was moved from October to March.
#####
Contact

Media-related enquiries: Corporate Communications Division