Contributing to Society with the "ALL FOR ONE Project" Leading the Way to the Resolution of Social Issues Starting with the Challenges Faced by Individuals.
At Dentsu, our "Dentsu Diversity Lab" provides solutions to disability, gender, multicultural, generational and other problems faced by diverse individuals. We promote the ALL FOR ONE Project (=041), which is particularly focused on the challenges faced by individuals and is leading the way to the resolution of social issues. To this end, we have developed a mechanism for creating new clothing to resolve issues faced by wheelchair users.
041 FASHION Born from the Concept of Inclusive Design
Creating vehicles everyone can ride in, clothing everyone can wear and amusement parks everyone can go to?mass marketing has supported Japan's industrialization and development after WWII. However, a large part of the population, comprised of disable people, has been left out. These are the people we refer to as "disabled people" In Japan, there are more than 8 million confirmed disabled individuals. Some even say this number rises to somewhere around 10 million people when we include those not diagnosed as a disabled person.
These individuals are faced with a variety of daily concerns. For example, a man with a visual impairment who still fears crossing the street with "courage and intuition," a wheelchair user who had to wait two hours just to get a shinkansen (bullet train) ticket, a woman who continues to suffer from dyslexia that has a difficulty reading and writing and cannot understand communications from family or work. These are the kinds of problems experienced by people who, up to now, most companies tended to ignore.
Speaking with those working in corporate marketing and product development divisions, we hear that "their needs are already being met." But is this true? If so, then why do disabled people often have such a difficult time resolving dissatisfaction with their everyday lives? Perhaps it is because the minority voices of these individuals are ignored by corporations that regard them as a non-core business niche market.
However, looking at history, we see that many innovations originated from the standpoint of disabled people. Although opinions vary, lighters, straws, cardigan sweaters and other items are thought to have been created from the standpoint of disabled people. The massively popular fidget spinner is another example.
Accordingly, "inclusive design" is a method for incorporating the diverse perspectives of disabled people into the development of products and services. For Japan, which has many disabled individuals and seniors, there is a need to innovate from the standpoint of people who are socially vulnerable.
For this reason, we launched the 041 Project.
This means "ALL FOR ONE," a social experiment for developing products and services from the standpoint of the individual. Social entrepreneurs from Nippon TV, Dentsu and JAPAN GIVING who call themselves Social WEnnovators (https://wennovators.com/) go beyond the framework of their organizations and industries to promote social unit projects tackling social issues with collective wisdom.
Up to now, we have created "041 SPORTS," enjoyed by disabled people and "041 SOS," a method that makes it easy for people accompanied by children or undergoing medical treatment to travel by train when going out.
Our newest project is "041 FASHION" (https://041.world/fashion/).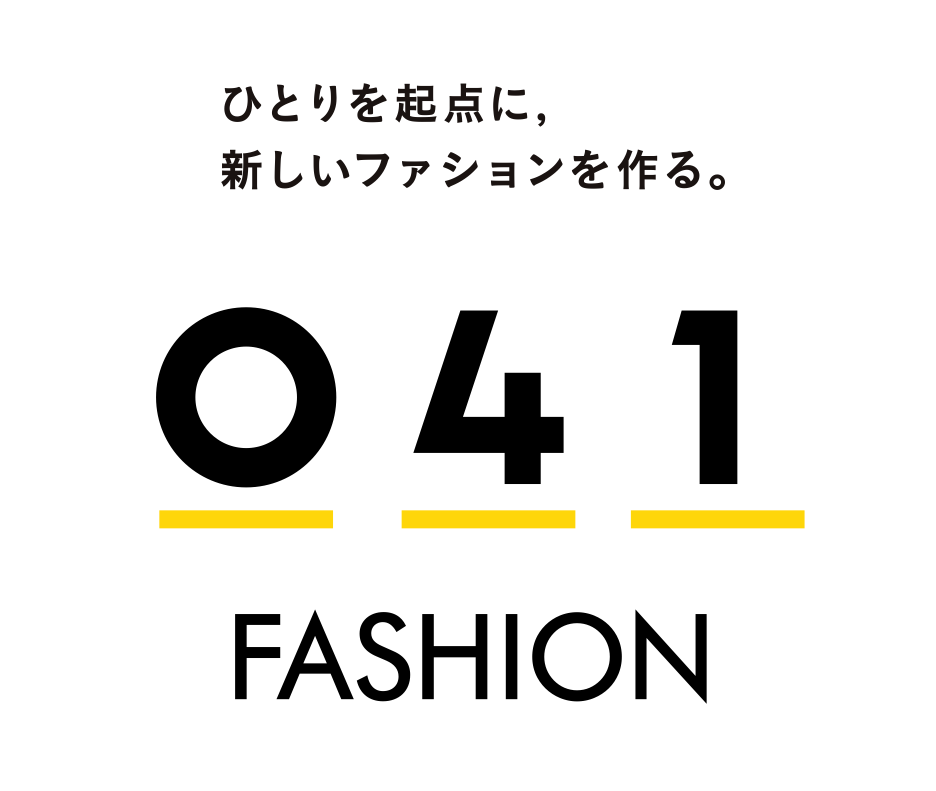 Co-Development of 041 FASHION Offering Practicality and Fashionableness
Disable people face a myriad of challenges when it comes to clothing. As an example, for those short in stature or of low body weight, there are no sizes that fit properly. Blind people are unable to see color, so they cannot coordinate their outfits. People who lack muscular strength have difficulty putting on and taking off clothing. Isn't it time we were able to create new fashion from these challenges? This idea led us to working with UNITED ARROWS LTD. (UA) to jointly establish the 041 FASHION Project.
First, we collaborated with five disabled people who were each matched with a special team from UA. Next, detailed discussions were conducted on the kinds of challenges they were having with clothing, and after identifying specific problems, prototypes were developed.
The disabled people tried on actual prototypes, and more detailed and in-depth discussions took place in a process that resulted in fashion items that were not only practical and easy to put on and take off, but also focused on design. Six items were created over the course of more than six months.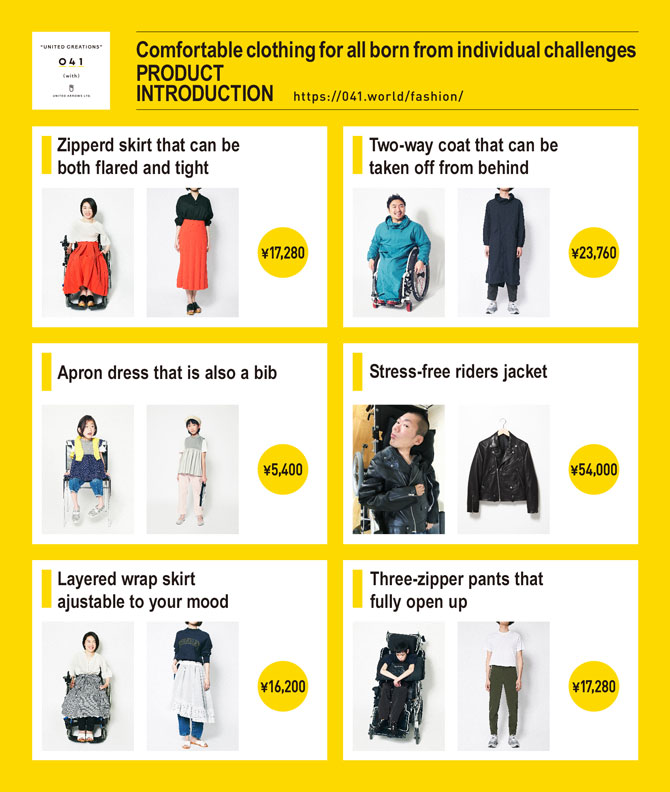 For example, wheelchair user Ayaka Sekine was unable to find a skirt that she was satisfied with for more than 10 years. Her concerns were many, including difficulty putting skirts on and taking them off, skirts being blown up by the wind, sitting down made the skirt length too short, difficulty understanding where the center was when someone was assisting her and painful marks left on her posterior from seams and fabric that was too thick. From these challenges, the zippered skirt that can be worn both flared and tight was born.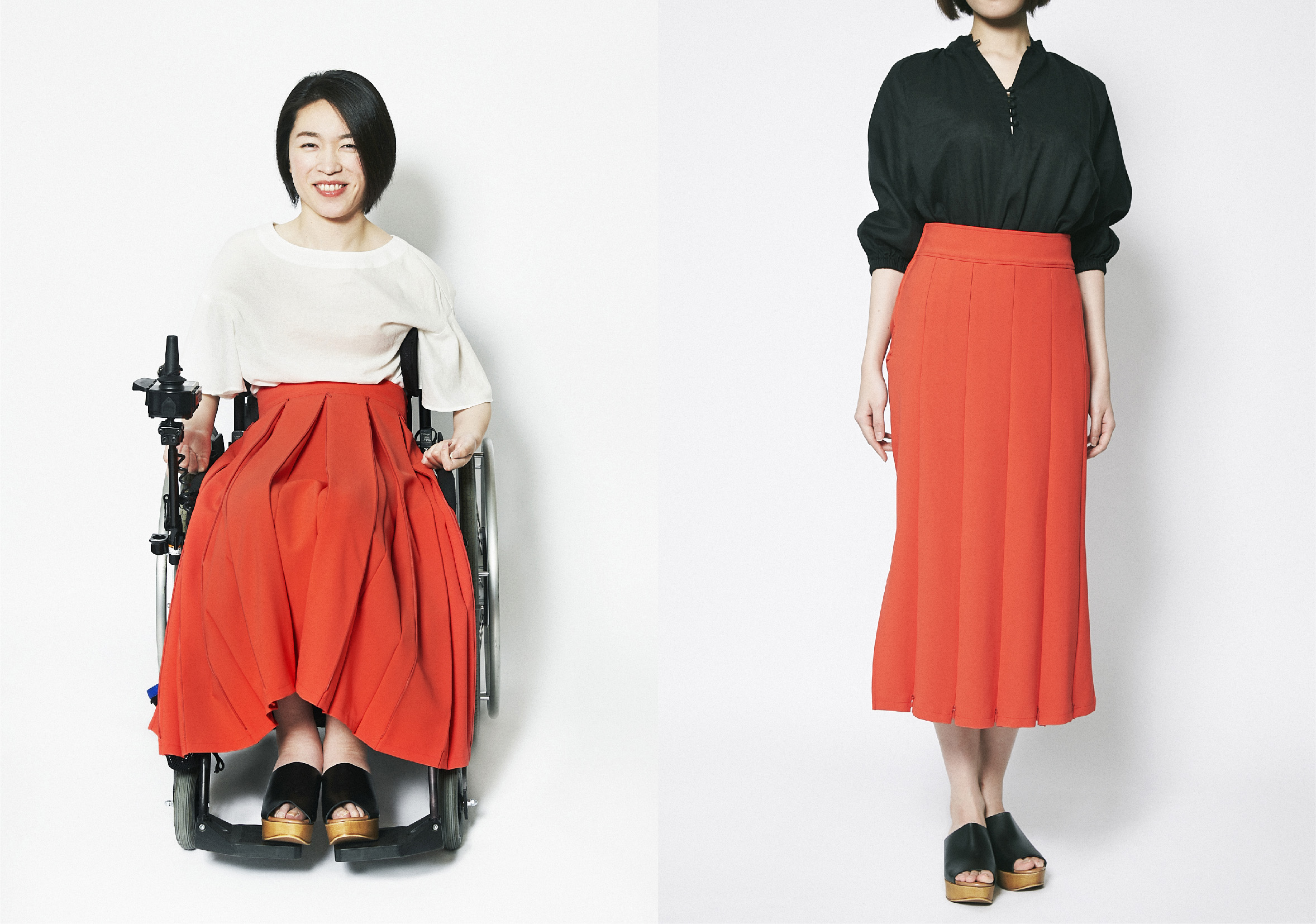 This skirt features five vertical zippers. When all of them are unzipped, the skirt becomes fluffy and flared. When zipped up, the skirt is tight. Moreover, the need for five zippers led to what resulted in a highly novel design.
Although this skirt was developed specifically for wheelchair users like Miss Sekine, the important point is that this is not a design only for disabled people. What starts with a single person becomes something for everyone. This is the true charm of inclusive design.
During the 2020 Tokyo Olympics, disabled people from all over the world will gather in Japan. I want to leave a legacy of Japan as a country that is advancing diversity. To this end, I think there is no other choice but to pursue innovation starting with each individual person. Won't you join me?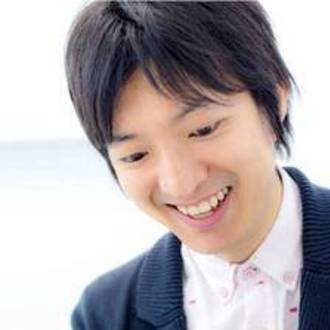 Tomohiro Sawada
Creative Planning Division 2