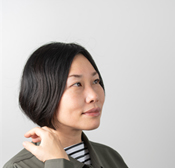 Rie Tanaka
Global Business Center, Dentsu Inc.
dentsu Japan Sustainability Development Office, Dentsu Group Inc.
Responsible for global research and PR related to sustainability
The trend derived from the sustainable lifestyle receptivity survey in 16 countries
In July 2021, Dentsu Global Business Center and Dentsu Institute jointly carried out a 12-countries (Japan, Germany, UK, US, China, India, Indonesia, Malaysia, Philippines, Singapore, Thailand, Vietnam) survey titled "sustainable lifestyle receptivity survey 2021". An additional survey was conducted in October in four countries (Brazil, Australia, South Korea, Sweden).
Based on the survey taken in these 16 countries, we present the results focusing on "the degree of the sense of ownership towards sustainability" and "the extent of sustainable action taken".
When a country's level of maturity increases, the individual's sense of ownership weakens
Let us first take a bird's eye view of the 16 countries' proportion ratio of "environment-related consumption x social activities".
In the matrix below, the vertical axis represents environment-related consumption. The respondents chose either "I purchase products that are environmentally friendly, even if they are more expensive" or "I purchase products that are cheaper rather than products that are environmentally friendly". The horizontal axis shows their participation or support in social activities, such as making donations, signing petitions, and helping spread information.
In this article, we will call having price tolerance for environmentally friendly products: "environment-related consumption". The activities of donating, signing petitions, and spreading information shall be referred to as: "supports social activities".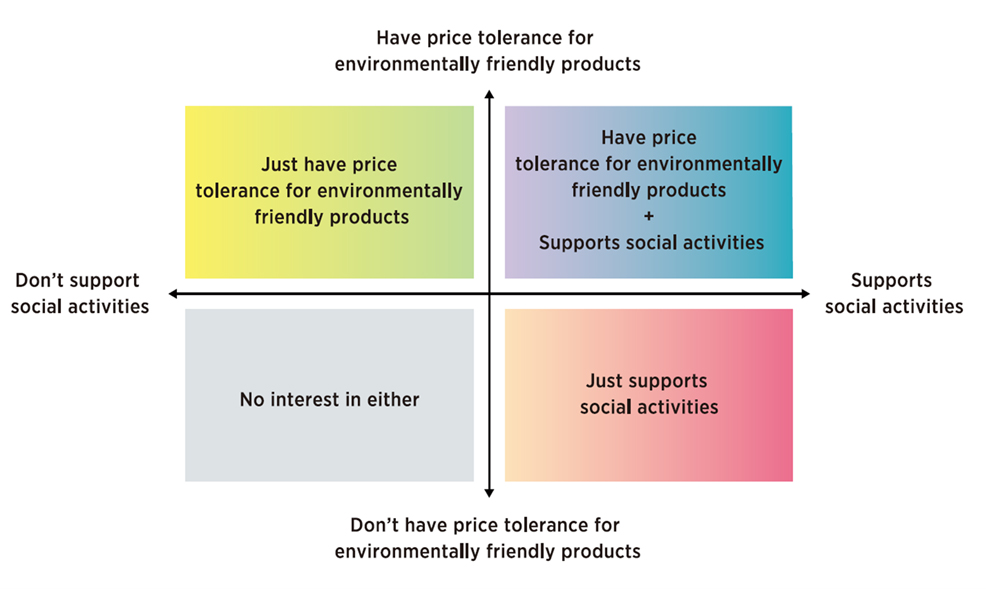 Of these four groups, the most obvious difference among the 16 countries was the proportion of those who were grouped: "No interest in either".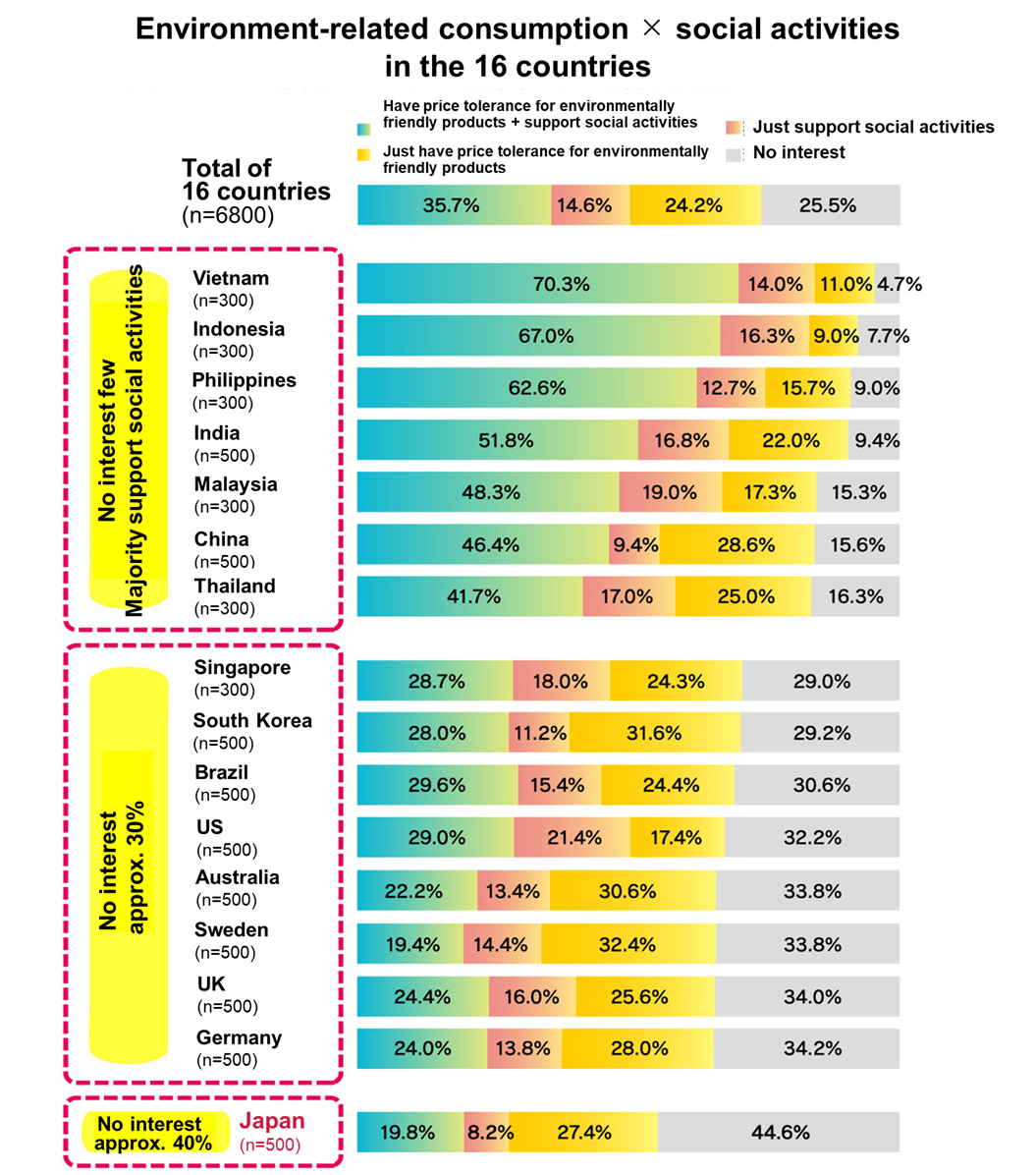 Of the 16 countries, Japan, at the bottom of the list, marked an exceptionally high proportion in the "no interest in either" group, with over 40 percent of respondents in that category. In addition, Japan's proportion in the "supports social activities" groups shown in green and pink totaled 28 percent, not even reaching the 30 percent mark.
In comparison, the higher ranked ASEAN countries as well as India and China showed a low proportion in "no interest in either", with over 50 percent in the "supports social activities" groups.
In the middle-ranked countries, such as the European nations and the US, about 30 percent showed "no interest in either", and about 30 – 50 percent were in the "supports social activities" groups.
Among them is Sweden, a Scandinavian country that has long been ranked in the top three in SDGs rankings. There is an exceptionally high level of knowledge among the Swedish people, including understanding sustainability-related terminology, and they were also ranked among the top in terms of collecting waste for recycling. However, the graph shows that Sweden and other economically advanced nations do not have a high proportion of those who support both environment-related consumption and social activities.
Many Asian countries have a high proportion of youths among their population, and their economy is in the developing stage. Therefore, these countries are open to change. They have a positive attitude about supporting social activities that lead to a better world, and they have a low negative outlook about environment-related consumption.
On the other hand, there is a higher tendency in European countries, Japan, and South Korea to contribute to sustainability through environment-related consumption rather than supporting social activities.
In countries where a high level of social and economic infrastructure is maintained and initiatives in environmental protection are well underway, the slowdown in economic growth in recent years may make it difficult for people to be convinced that things are going to change for the better.
In all the countries surveyed, we found no correlation between the household income level and the desire for environment-related consumption. It can be assumed that concerns for the future (economic growth) rather than the current state make people reluctant to spend time or money on environmental protection.
Japanese show a high level of awareness and concern towards the environment, but do not take direct action all the time
We will now examine people's environment-related awareness and actions based on the follow-up survey taken in the US, the UK, South Korea, and Japan in December 2021.
We looked at the differences among the nations with regards to "the desire to take environmentally friendly actions" and "the degree of environmentally friendly actions actually taken". If there is a gap between these two, we compared the reason for not being able to turn the desire into action.
In conclusion, each country has a strong desire to do good for the environment, the degree of action taken differs from one country to another, and the top ranked countries shared the same reason that prevents people from taking specific action.
First of all, little difference was found in "the desire to take environmentally friendly actions" among the countries surveyed. The desire was high in them all, marking 80 – 90 percent.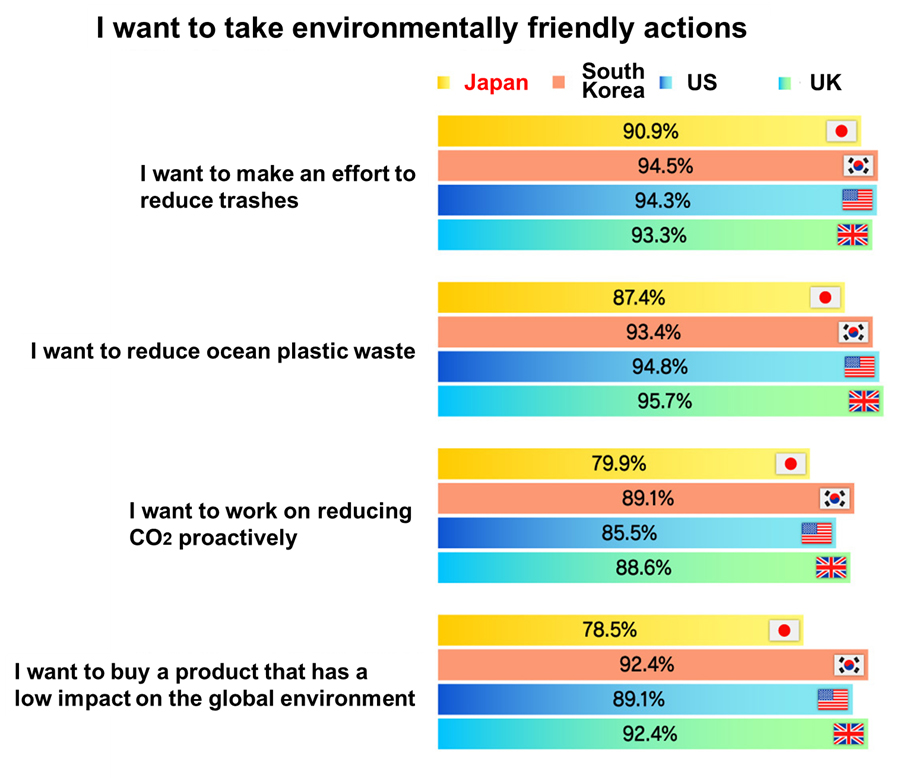 In terms of whether people are taking specific action, the percentage of those who sort their waste was high in all four countries, marking 70 – 80 percent responding that they sort their waste "every day or almost always", an indication that it has become a daily routine for many people. The level of CO2 reduction at home was highest in the UK (53.7 percent). The other countries scored more or less 40 percent, indicating that CO2 reduction is not yet a routine.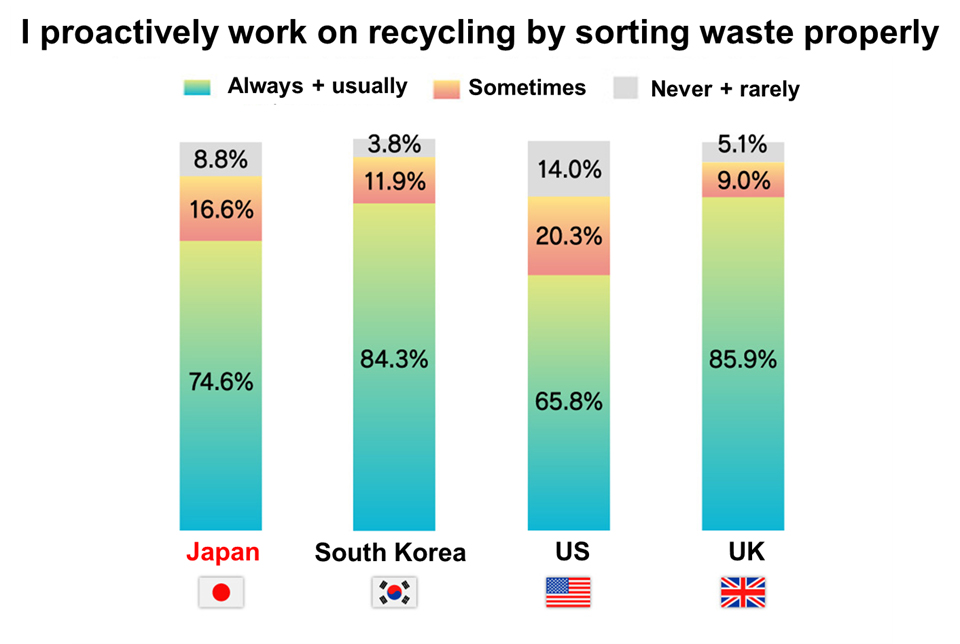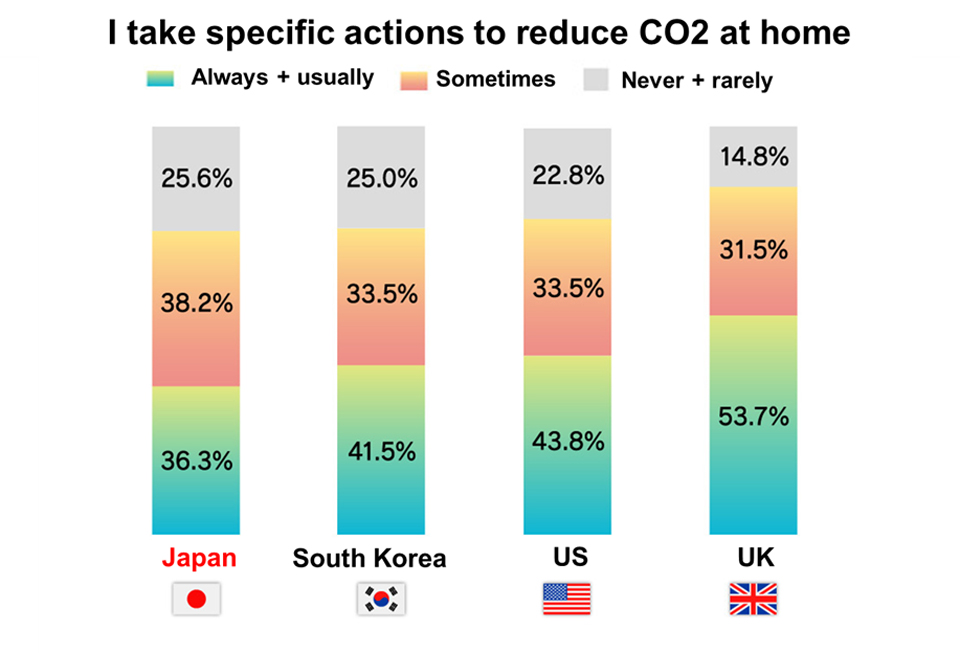 Environment-related consumption to reduce environmental load reached 50 – 60 percent in South Korea, the US, and the UK where it is adopted as a daily routine. In Japan, the rate remained a little over 30 percent, with the highest proportion responding "sometimes".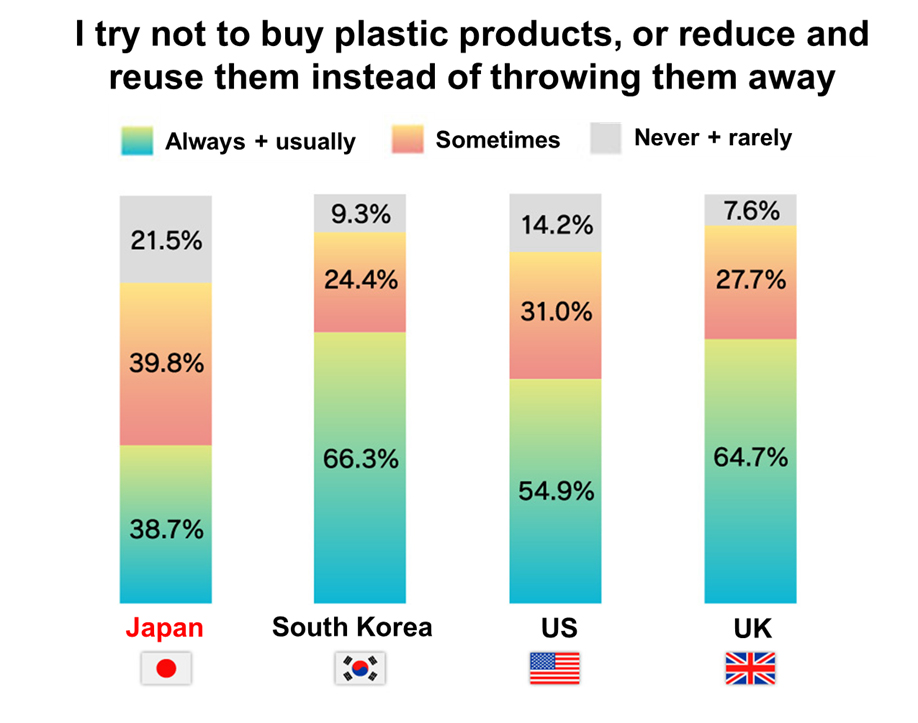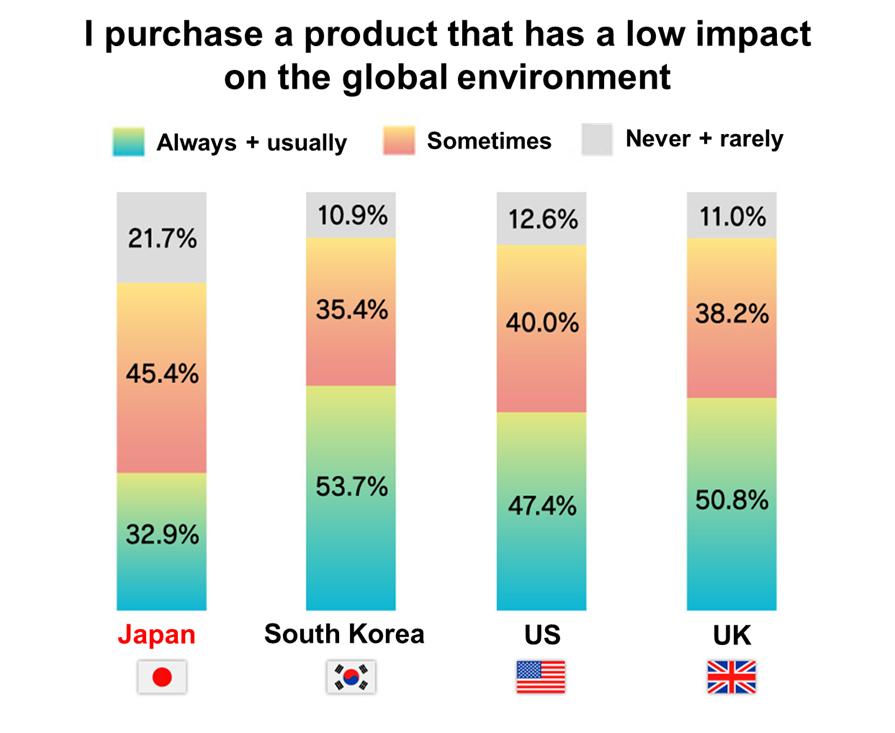 From the point of view of responding to climate change and protecting animals, there is a trend to reduce meat consumption. Instead of avoiding all meat and fish, there is a concept of 'sometimes' enjoying a vegan lifestyle which is expressed as "#sometimevegan" or "#partimevegan". The expression has been shared on social media and there are many celebrities that embrace the idea.
This trendy aspect and spreading environmentally friendly actions together with others are similar to what happened ten years ago when luxury brands released eco-friendly shopping bags or eco-bags. Since then, it has become a major movement and the eco-bag became an item that every person carries around. However, its daily use became a routine only when the government enforced a law to impose a fine or charge for a plastic bag, so in the end there may be a need for some kind of regulation. These days there are many vegetable-based meat substitutes sold in supermarkets, but there are still some hurdles to overcome before the majority of the population uses such substitutes on a daily basis. As of July 2021, 29 percent of the 18 – 29 year-olds surveyed said they have purchased and used meat substitutes.
In all four countries, the following four responses marked over 30 percent for the reason that is preventing people from taking specific action.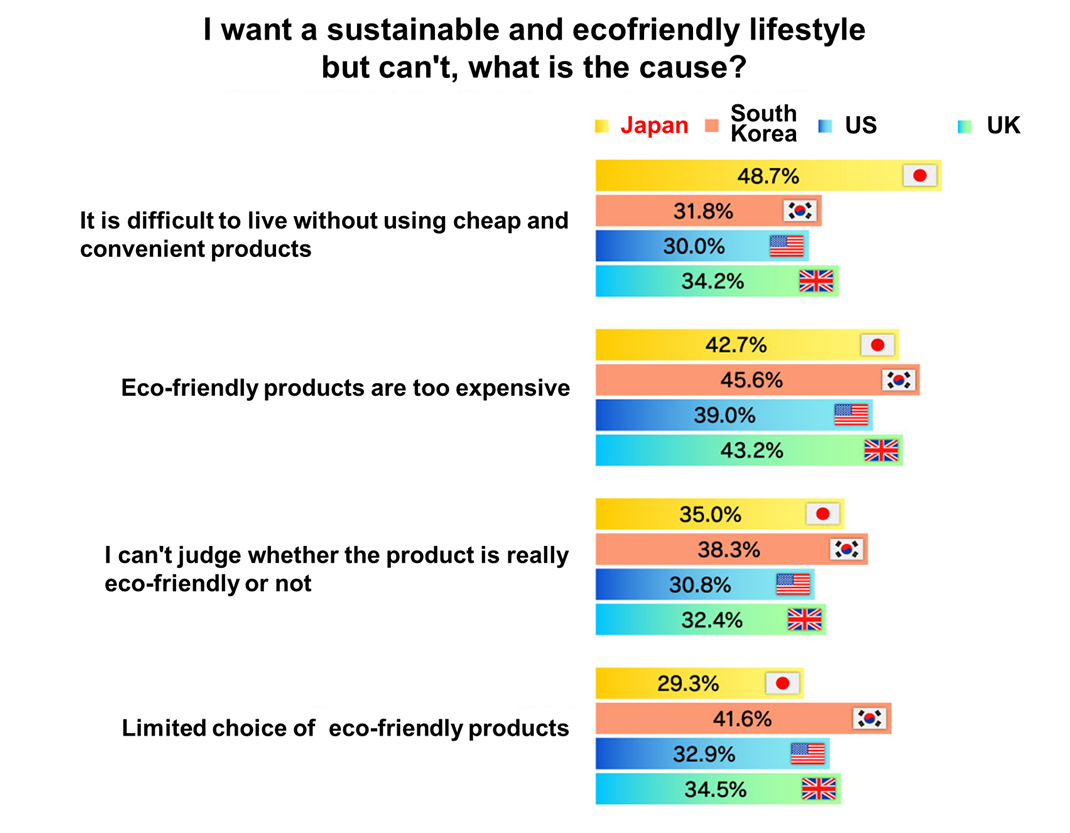 Of these four responses, companies can be expected to do more to overcome the following three:
Eco-friendly products are too expensive
It's difficult to judge whether the product is really eco-friendly or not
Limited choice of eco-friendly products
Only in Japan, the reason "It is difficult to live without using cheap and convenient products" was exceptionally high, marking 48.7 percent.
It has been considered a virtue in the Japanese business community to provide consumers with high quality, convenient products at the most inexpensive price possible. The motivation of the employees has been 'to put in double the effort and gain economic success'. Consumers have also gotten used to believing that 'it's smart and fun to spend as little as possible buying new products'.
However, maintaining a supply chain that eradicates illegal labor, uses green energy, and takes the load off the environment and the socially vulnerable would raise the product price. If the majority continues to purchase products merely because they are 'affordably priced', it may delay the spread of products and services that are environmentally and socially friendly.
There may be strong resistance to a rise in the cost of living, but there is a need to shift to a lifestyle where satisfaction is gained by reducing usage, even at a higher cost. It may be necessary for the government, businesses, as well as consumers to embrace the decoupling of economic growth and environmental protection in order to enjoy fulfillment that is not a rooted in economic wealth. In addition to people's attitudes, it is of course equally important for governments and businesses to guarantee the basic infrastructure of living.
We are currently struggling with the on-going COVID-19 pandemic, which has restricted our activities and affected the economy, forcing us to re-think our lifestyle. The point is whether we can make the transition from putting importance on economic gains and losses to focusing more on virtues and the way we live. We Japanese are being put to the test of whether or not our nation, businesses, and people as a whole would be able to let go of 'cheap but good quality products' (that may have a negative impact on the environment and society).
The composition ratio is rounded off to the nearest tenth below the decimal point, and therefore the total does not necessarily equal 100 percent.
Title:
"Sustainable Lifestyle Receptivity Survey 2021"
Survey method:
Internet survey
Survey conducted by:
Dentsu Inc. and Dentsu Institute
Survey period:
July 8 – 20, 2021
Countries surveyed:
12 (Japan, Germany, UK, US, China, India, Indonesia, Malaysia, Philippines, Singapore, Thailand, and Vietnam)
Survey samples:
4,800
Subjects surveyed:
Male and female; aged 18 – 69
In the six ASEAN countries, male and female aged 18 – 44
| | |
| --- | --- |
| Title: | "SLS 2021 Additional Survey (1) October" |
| Survey method: | Internet survey |
| Survey conducted by: | Dentsu Inc. |
| Survey period: | October 17 – 30, 2021 |
| Countries surveyed: | Sweden, Brazil, Australia, South Korea. |
| Survey samples: | 2,000 |
| Subjects surveyed: | Male and female; aged 18 – 69 |
| | |
| --- | --- |
| Title: | "SLS 2021 Additional Survey (2) December" |
| Survey method: | Internet survey |
| Survey conducted by: | Dentsu Inc. |
| Survey period: | December 19 – 23, 2021 |
| Countries surveyed: | Japan (n=570), South Korea (n=579), US (n=523), UK (n=553) |
| Subjects surveyed: | Male and female; aged 18 – 69 |
Related Link
[Global] Accelerating sustainability & circular economy (Japanese language only)