This three-part series introduces "dentsu prototyping hub", an initiative organized by Dentsu's 'digital creatives (link in Japanese)' , to shed light on the future of Dentsu's creativity.
In this second part of the series, Dentsu Digital's creative director and media artist Kenichi Kawamura, who is Japan's leading TouchDesigner expert, will introduce the attractions of TouchDesigner, the 'fastest prototyping tool', and will also look back at the first workshop of the "dentsu prototyping hub" project called the "TouchDesigner School" at which he served as the lecturer.
What's appealing about the visual programming language "TouchDesigner" – You don't have to know how to write codes to use it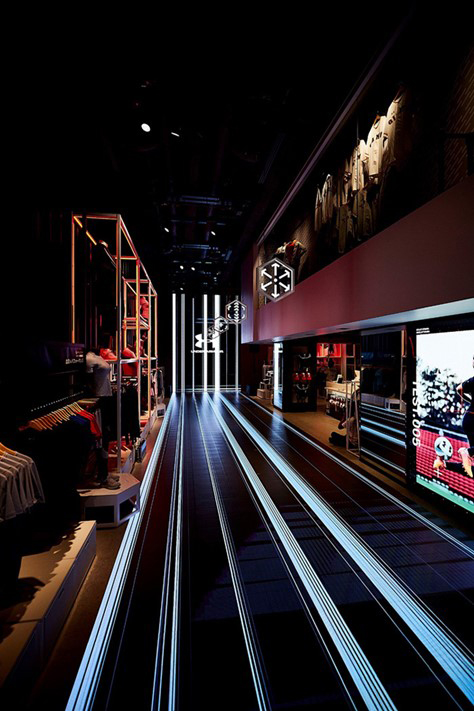 In the first part of this series, Ryonosuke Ono introduced the significance of "dentsu prototyping hub" and how the idea was developed. In this second part, we will review the lectures given by Kenichi Kawamura at the "TouchDesigner School", the first workshop of the "dentsu prototyping hub" project that took place in 2020.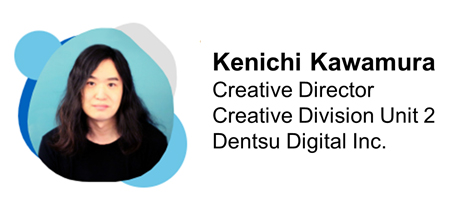 We will start by giving a simple introduction of TouchDesigner.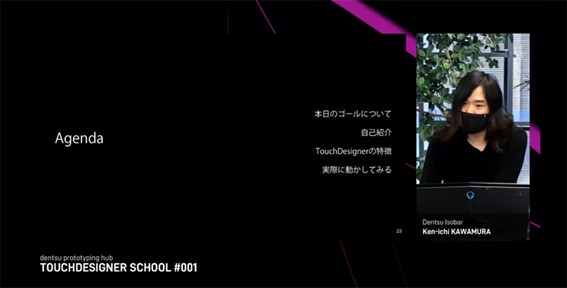 TouchDesigner is a development app used in projection mapping, media art, event production, and online events. The app is provided by Derivative, a company based in Toronto, Canada.
When we hear 'development', most people think of experts working on highly abstract programming using a string of alphabetical letters. TouchDesigner is far from this general image of development apps.
Even if you don't know how to write codes, development is made possible by linking together these blocks that are called 'nodes'. It is easy to learn even if you have no programming experience.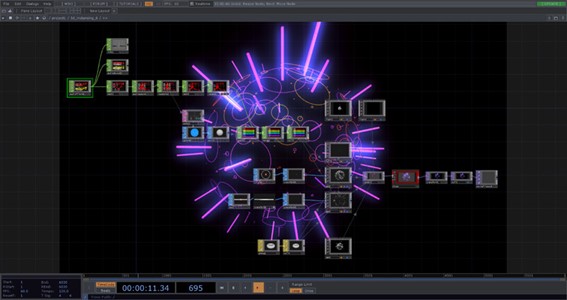 Such programming language using visualized objects is referred to as 'visual programming'.
In fact, there are many other visual programming languages such as: the educational programming language "Scratch"; the acoustic programming language "Max"; the real-time 3D production platform "Unreal Engine"; the real-time video-generating "vvvv"; "Houdini", the program used in high quality 3D computer graphics production; and "Origami Studio", the tool used to produce website and mobile app prototypes. These were just a few examples, but from high-end to education-oriented, there are many apps available across various genres.
TouchDesigner is especially useful as it presents the user with instantaneous visual results the moment the nodes are connected, so once some skills are gained, the user will be able to experience trial and error at incredible speed.
Since there are many things that TouchDesigner can do, it is difficult to explain the tool in simple form. Including the introduction made so far, its characteristics can be summarized below.
An application that links blocks together (= visual programming language).
Used widely in projection mapping, media arts, and event production.
Compared to other applications, it is easier for graphic designers and other creators to learn how to use.
A wealth of functions that link multiple devices such as audio and video devices.
Supports the production of interactive contents that require real-time control.
Cannot be exported as an executable file. (TouchDesigner must be opened on the computer for exporting.)
Taking on the challenge of producing an interactive creative output with the smartphone's sensor or the laptop camera
TouchDesigner is a tool that is very good for creating 'interactive user experiences'.
Project mapping
Digital signage
Lighting
Laser
Sensors
Robotic arm
Drones
There are many more. TouchDesigner enables the user to gain complete control of the device to create all kinds of user experiences.
TouchDesigner can also be found behind well-known entertainment facilities. It has also been applied to large-scale live events that are broadcasted on television.
On the other hand, TouchDesigner is not widely recognized in advertising, an area of Dentsu's expertise. However, in today's world, even at Dentsu, there is a demand for the creative output to cover every scene in life, regardless of the media used, and to move people's hearts with a new experience.
As introduced in the first part of this series, the "dentsu prototyping hub" project started from the wish to give the Dentsu creators, who have been devoted to advertising, an opportunity to become more familiar with technology. One of the tools that matched this concept was TouchDesigner.
"dentsu prototyping hub" was established by Ryonosuke Ono, featured in the first part of this series, with his colleague Hiromu Fuji, and TouchDesigner expert Kawamura. Once they decided to select TouchDesigner as the tool for the first workshop, they discussed the details of the workshop content based on the goal of: "Giving the Dentsu creators a chance to experience how they would be able to apply their knowledge gained through creating ads to various fields through the TouchDesigner workshop and getting them to embrace technology on a more personal level."
A total of eight two-hour lectures were held every two weeks. General remarks were followed by an explanation about basic operations, and instructions were provided while a total of eight demos were created together with the participants.
For instance, the following samples were created:
A creative output that responds to people's movements
A creative output that responds to the activities of smartphones
These samples can be implemented just by linking the nodes.
It is difficult to take the first step if creating prototypes require special devices, so demos were prepared to show that there are different ways to use our personal computers and smartphones, hoping it would lead to new ideas.
Although there were only eight sessions, the lectures were designed to produce practical demos that could be used in real projects.
Two types of ideas that can be generated from knowing technology, and the value of prototyping
The areas in which Dentsu creatives worked were mainly related to mass advertising, such as commercials, copywriting, and graphics. Today there are new devices, media, and platforms used, including personal computers, smartphones, audios, and IoT, which expands the playing field of creativity on a daily basis.
That expansion is driven by the evolution of technology. If creators do not gain deeper understanding, new ideas that respond to today's needs will not be generated. In some cases, creators feel that some ideas are interesting but impossible to realize. This issue was mentioned by Ryonosuke Ono in the first part of this series.
We can say that it has become very important to understand and embrace technology for creative teams to come up with ideas.
The ideas that are born because of our enhanced knowledge of technology can be categorized into two types:
Ideas that are born in the process of brainstorming
Ideas that are inadvertently born in the process of using our hands
The first is obvious. Ideas are born from combining or multiplying what we already know. Having technological knowledge increases our options for ideas and our chances to generate valuable ones.
The second is not easy to understand if you don't know technology. Technology-based ideas are born inadvertently in the process of moving your hand on a device, and they can turn into huge ideas. It almost seems that the majority of cases that make effective use of technology were born through this process. When an idea is accidentally discovered like this, sometimes you notice it yourself, and sometimes it comes from someone passing by who looks at the prototype that is only partially developed.
Generally, a proposal requires a detailed presentation, but a prototype skips the logic and allows people to 'see the results instantly'. That is why it is very useful in discovering or sharing ideas.
Having a prototype when presenting a proposal to a client makes the presentation more of a brainstorming session. The important point for generating technology-based ideas is how you, as a team, can create the moment that skips the logic.
Many advertising creators already have outstanding expertise in some area, such as planning, graphics, copywriting, producing, or developing. By adding some technological aspect or perspective could produce an interesting chemical reaction.
When you use your hands on a device, technology becomes part of you, and creating a prototype can generate new ideas. Using your hands or making a prototype may seem like a detour, but they are integral to finding joy in the moment you make an inadvertent discovery.
It would be great to provide more people with the experience of instantly seeing the result of a new idea generated through prototyping.
What technology can develop is a community whose members stimulate each other
(Kawamura) I started studying TouchDesigner from 2018. At the time, there were no Japanese books, and I was saved by a study group called "TouchDesigner Mokumoku-kai", organized by Dentsu on a regular basis, and I actively participated to acquire more knowledge.
I gradually started using TouchDesigner in actual projects, and I started to receive requests to lecture or to carry out artistic work at various occasions. I learned enough to write a book on TouchDesigner three years later. Those three years taught me the fun of being totally absorbed in something and the importance of learning in a community, and I also experienced discovering a new path by taking direct action.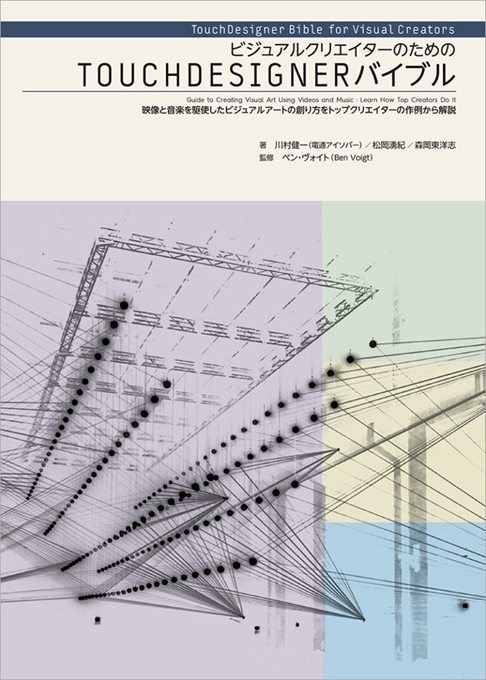 I believe that only a handful of people can devote themselves to learning technology that they are not used to using. This line from a Japanese TV series titled "Dragon-zakura" is stuck in my mind: "It's easier to study for the entrance exam to get into Tokyo University as a team rather than studying alone." I think it is also faster to acquire skill sets for technology by studying in a community.
I have been involved in various projects in-house as well as outside of the company with the belief that 'communities help people grow.' I've served as main lecturer at a school run by Tower Records, and I've planned and organized study groups. The book I wrote last year was also part of this activity.
Professional staff that are made to work separately cannot create synergy and have lower input. As a result, output is reduced and little know-how is accumulated. In this time of the COVID-19 pandemic, when the chance of getting together is drastically reduced, we need more projects like "dentsu prototyping hub" to build a more robust company.
The "TouchDesigner School" workshop was a new challenge in every sense, but the passion, originality, and ingenuity of the organizing members combined with the warm support of the participants resulted in a very satisfactory lecture, as seen in the comments given in the survey afterwards.
The number of participants who took part in the "TouchDesigner School" workshop marked 102, excluding the operational members. It would have been difficult to organize a real on-site event with 100 attendants, but it wasn't so much of a hassle to do it on line. If the event is recorded on video, people could also review the sessions at a later date during their free time. I realized that on-line sessions are extremely effective in terms of knowledge sharing too.
Although the theme "TouchDesigner" is not something directly related to advertising, the fact that so many Dentsu creators participated and most of them continued to take part till the end was a huge discovery and gave me a lot of expectations towards the future.
*****
As the second project of "dentsu prototyping hub", a workshop was organized featuring "Blender", a three-dimensional computer graphics tool. In the third part of this series, the three organizing members will share their thoughts and impressions of the "TouchDesigner School" and "Blender School" workshops they organized and will talk about what lies in the future.
Related Link
dentsu x Creative x Technology: The challenge of dentsu prototyping hub! (Japanese language only)