"Sustainable 'd' Actions" is an initiative that leverages Dentsu Group's problem-solving capabilities to bring about change within the organization as well as in society with a goal to creating a sustainable society. The 'd' stands for dentsu, diversity, and dynamic.
In this series, we will introduce various "Sustainable 'd' Actions".
The first of the series features a case study of 'collective impact'*1, a collaboration between the J.League club team Giravanz Kitakyushu Football Club, local businesses, and a municipality based in the city of Kitakyushu, where Kitakyushu is the northernmost city of Kyushu, located southwest Japan, and is an important hub for both land and marine traffic since olden times. The case study follows that paper cups used at football matches are collected at the stadium and recycled as compost. The compost is then used to grow vegetables. Mihoko Hotta, who works on SDGs and circular economy projects at Dentsu Inc., reports on this demonstration experiment (click here for the release in Japanese).
collective impact: A collaboration between a municipality and diverse businesses.
A collaboration between 15 businesses, organizations and the local municipality. Completely decomposable paper cups are recycled into compost and used to grow vegetables.
The demonstration experiment took place on August 22 and 28, 2021, during the "Giravanz Summer Festival 2021"*2 hosted by the Giravanz Kitakyushu Football Club. This project started from a partnership between Mitsubishi Chemical Corporation, NTT Business Solutions, and Well Create Co., Ltd. Then joined Dentsu, Giravanz Kitakyushu and others, until there were 15 diverse businesses and organizations on board to contribute their unique capabilities.
Thorough measures against COVID-19 were implemented at the event, and the number of people who could attend was restricted.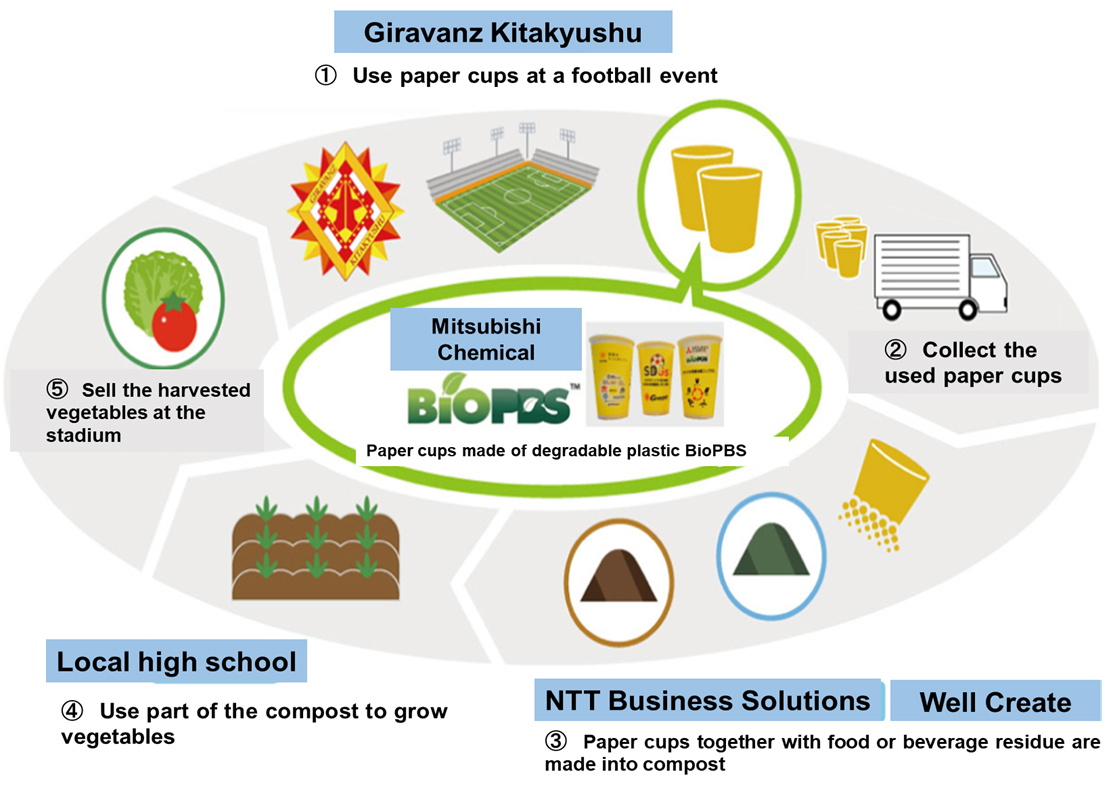 Mitsubishi Chemical developed paper cups made of biodegradable plastic, and the paper cups were used at an event hosted by Giravanz Kitakyushu. The used paper cups were collected and forwarded to NTT Business Solutions and Well Create, who mixed them with food waste and produced compost using a food waste fermentation/decomposition machine (Fourstars). A portion of the compost was given to a local high school where it is used to grow vegetables. The vegetables will be harvested and sold at the stadium. A total of 15 businesses and organizations, including a beverage company and a municipality, participated in this demonstration experiment of a local food supply chain system starting at a football stadium.
Most paper cups have on the inside a coating of polyethylene, a petroleum-derived non-biodegradable plastic. The paper cups used in this demo experiment were made of degradable plastic BioPBS*3 developed by Mitsubishi Chemical, and they were supplied to the concession stands at the stadium. These paper cups can be wholly recycled into compost, including any beverage stains or food waste remaining on their surface. Boxes were placed inside the stadium for disposing of the paper cups, and an introduction to the project along with a message seeking people's cooperation to recycle the paper cups was shown on the screen. Local residents from the area as well as fans of all generations who came to enjoy the football match and the event took part in this project.
BioPBS™ = A plant-derived degradable resin developed by Mitsubishi Chemical, who holds the basic patent. Natural microorganisms decompose BioPBS™ into water and carbon dioxide, reducing the burden on the environment. In addition, BioPBS™ exceeds other degradable resins in low-temperature heat sealability, heat resistance, and flexibility. By using BioPBS™ to laminate the inside of a paper cup, the whole cup can be decomposed at a compost facility or in soil.

About 3,600 paper cups were collected over the two-day event, and the following day the paper cups were delivered to the recycling center in Kitakyushu City, where NTT Business Solutions and Well Create jointly operate the food waste fermentation/decomposition machine (Four Stars).

Paper cups are decomposed to produce compost using the food waste fermentation/decomposition machine "Four Stars" (on the right).

Using an agent called Therverics (a microorganism-derived composting accelerator), the paper cups are decomposed over a period of four days. After four days, there is no trace of the paper cups. After secondary and tertiary fermentation, the compost is made in about two months' time.
The compost was provided to Fukuoka Prefectural Yukuhashi Senior High School in Kitakyushu City where it is used to grow vegetables. The vegetables will be harvested next spring and will be sold at the stadium. Used paper cups are recycled into compost, which is used to grow vegetables. This local initiative demonstrates that an SDGs cycle has started to take root.
A new circulation generated through the solidarity of sports, business and the local community
Kitakyushu City is an environmentally friendly model city that is carrying out a number of SDGs projects. Giravanz Kitakyushu FC has its base firmly rooted in Kitakyushu City, and it is actively involved in its own efforts to promote SDGs. It was impressive to see that this demonstration experiment was not special; the staff involved explained that it was just another SDGs initiative that they work on regularly.
Why does a football club work regularly on SDGs initiatives? Why did they participate in this demonstration experiment? When we searched deeper for answers, we found a new circulation emerging from the collaboration between sports, businesses and the local community.
Let's learn more from this interview with Mr. Yukito Tamai, President of Giravanz Kitakyushu.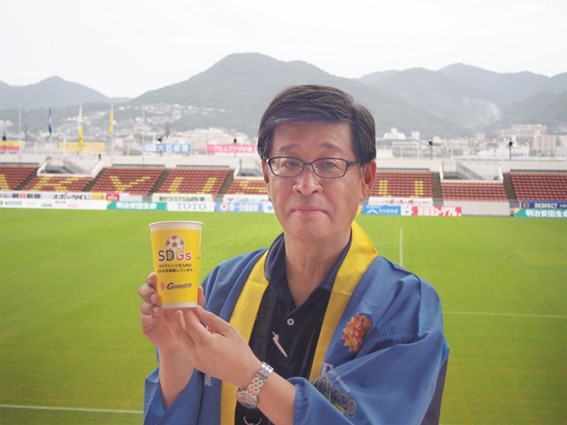 Understanding the local character to become a club that is truly needed by the community
Why does a football club put so much effort into SDGs activities?
"Our club's objective is not only to build a strong football team, but we also want to become a club that is welcomed and loved by the people in the community. To gain the support of the local people, we must understand the local character, what the people of Kitakyushu have nurtured and valued over the years, and then we interpret them with a contemporary eye. It is important that we all grow together."
"This city once had a serious pollution problem but overcame it and became an environmentally friendly model city. Knowing its history, we felt that we have to lead and take action. We have worked on various SDG initiatives since 2019."
"Sports x local community x business" generates a new circular system that involves consumers of all ages
Compared to other initiatives in the past, what were the specific points that were improved this time?
"The reason why we take the lead in carrying out SDGs activities is because sports involves people of all ages, from kids to the elderly. The demonstration experiment presented a cycle in which people of all ages could participate, and that was an aspect that was unprecedented."
"Families, kids, and everyone who came to the stadium drank beverages out of these paper cups. After their use, the cups were disposed of, made into compost, and delivered to high school students who grow vegetables. The vegetables will be harvested and offered to people who come to the stadium. There is a cycle that goes through several stages in the local community, involving people of different ages, and the cycle returns to where it originated. A circulation of sustainability was born through this initiative."
"Giravanz Kitakyushu FC was formerly known as the Mitsubishi Kasei Kurosaki Football Club, so partnering with Mitsubishi Chemical through this project meant returning to our roots. It was very special for us to confirm our heritage. The collaboration between the local community, sports, and business creates another new future. It's a very meaningful story."
A "circular system of local foods" expands to communities across the nation
I was reminded through the interview that when a diverse group of players with a common goal of solving the same social issues leverage each of their capabilities and collaborate, and consumers of all ages are involved to establish a circular system, there is potential for an unprecedented outcome.
The circular system that was tested in this demonstration experiment was carried out with the cooperation of a school and a number of businesses, and we saw a 'collective impact' that facilitates a cooperative problem-solving effort that can be applied to other communities as well as to sports, entertainment, events, and various other fields.
In fact, other municipalities, sports organizations, and different event organizers have expressed interest, asking if this project can be implemented in their sector too. We can expect further results from future activities by Giravanz Kitakyushu and from new 'collective impacts'.
The Dentsu Group has accumulated extensive knowledge in sports, entertainment, events, marketing and other fields that can maximize the effect of collaborative projects between businesses, municipalities, various organizations, and educational institutions. Based on the results gained in this demonstration experiment, we will work with Mitsubishi Chemical and NTT Business Solutions to develop new initiatives and solutions that contribute to the creation of a circular economy.