First Japanese anime content exhibition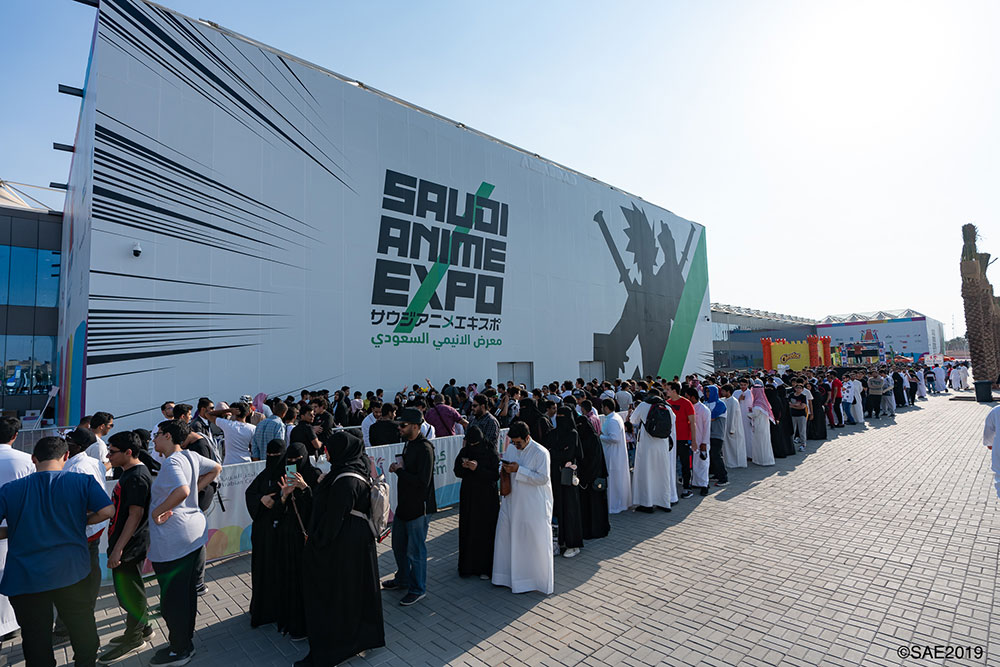 Japanese anime is popular all over the world. Besides children and teenagers, many adults are now fans of anime—not only in Japan but in other countries, as well. Saudi Arabia is no exception.
Until now, however, it has been difficult to provide the country with Japanese anime content from legitimate holders of intellectual property (IP) rights. This is due to strict interpretations of Islam that prevail in Saudi Arabia, a country located in the Middle East on the western edge of Asia, which is home to the holiest sites of the religion.
Thus, pirated versions of anime have been widely traded on the black market, suggesting that there are already many potential anime fans in the country. Against this backdrop, Dentsu was put in charge of producing Saudi Anime Expo 2019.
Shift from dependence on oil
In recent years, Saudi Arabia has been pursuing far-reaching reforms, including a national strategy, Saudi Vision 2030, to reduce the country's dependence on oil. Government-led initiatives have been launched with the goal of diversifying industries, and bans on entertainment have been lifted following many years of restrictions.
Challenges remain, however, as distributors of entertainment content from other countries face high hurdles, and the amount of distributed entertainment content is still extremely limited.
Therefore, to realize the Saudi Vision 2030, the government designated entertainment as a growth industry and took major steps to liberalize it. Movie theaters were again allowed to open and the development of theme parks is being planned. The initiatives have been strongly backed by Crown Prince Mohammed bin Salman, who is known to be a big fan of Japanese anime.
Japanese anime exhibition
Amid those developments, officials from the Saudi Arabian government and Sela Sport, a semi-nationalized government-funded company, met with Dentsu to discuss their plan to promote genuine Japanese animation content as a way of realizing the national strategy of liberalizing the entertainment industry.
Dentsu had already built up relations with Saudi Arabian businesses in connection with global sporting events, particularly soccer. Considering that track record, the officials wanted to consult with Dentsu about expanding into the anime business. Dentsu's members were overjoyed, of course; but the project had to be executed over only about six months from the negotiations until the exhibition.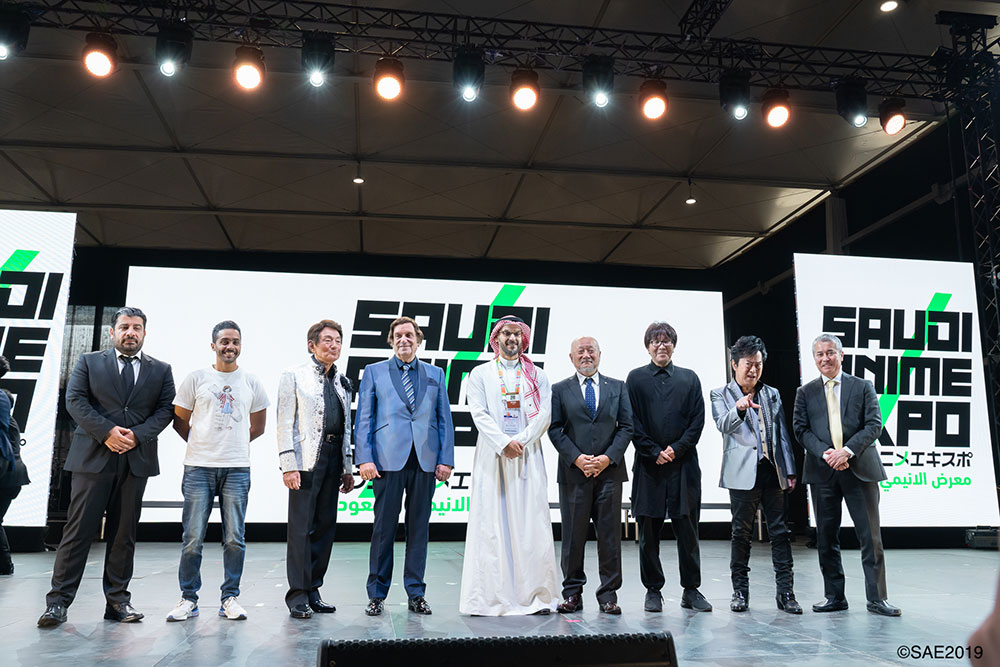 Assembling the team
Dentsu was given the responsibility of producing the entire exhibition, from planning the content and organizing the event to negotiating with IP rights holders in Japan about exhibiting their work.
Members from organizations in the Dentsu Group were drawn into the project team, and came from the Content Business Design Center, Global Sports Division, Publishing Business Developing Division (which has ties to publishing companies), Global Business Center (a business solutions provider with international expertise), as well as Dentsu Music and Entertainment Inc. (which handles music copyrights and artist management). Also involved were Dentsu Tec Inc., Dentsu Live Inc., and Dentsu Event Operations Inc.—each of which has experience in holding and managing large events—and the Dubai office of Dentsu Aegis Network Ltd.
By bringing together the expertise and organizational capabilities of these organizations, the project team was able to immediately start preparations for the event and effectively deal with obstacles as they arose.
Bridging cultures
Finally, Saudi Anime Expo 2019 was successfully staged, without problems, last November. The opening ceremony began with speeches by officials from the Saudi Arabian government, followed by appearances by well-known personalities involved in anime from Japan and Saudi Arabia.
The speakers expressed their hopes that bilateral cultural exchanges might deepen through anime. Later, anime-themed live music, panel discussions, and performances were featured on the main stage.
The exhibition area was filled with displays from 41 Japanese companies, and various interactive spaces were set up at the venue, including cosplay and movie theater areas. The event offered those attending a myriad opportunities to enjoy the world of anime. With some 37,800 visitors over the three days of the event, the expo was a great success, surpassing all expectations.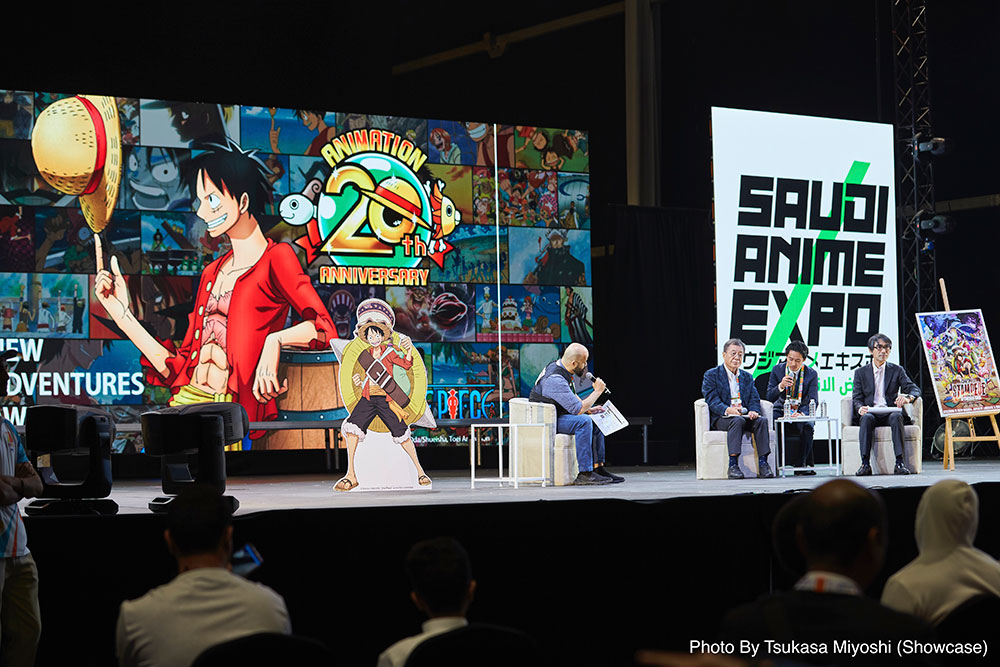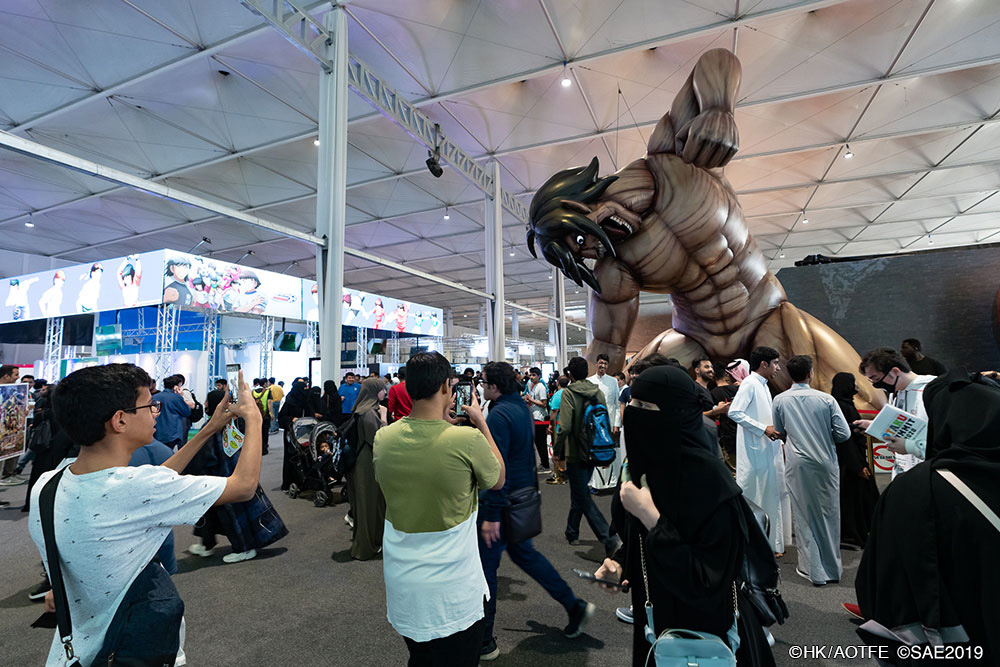 Leading up to the event, Dentsu's project team had faced many unexpected challenges. The strict religious precepts meant the content and activities were atypical of anime events.
For example, a great deal of content could not be used because it included too much nudity. Without such prior experience, the team nevertheless had to deal with the issues and move ahead. Although promoting anime as a new industry in Saudi Arabia was a completely new experience for Dentsu, it was able to bring together the needed knowledgeable and skilled members of its Group companies.
Opportunities in emerging markets
The project enabled Dentsu to lay the foundations for Japanese IP rights holders to provide entertainment content to untapped markets in the Middle East and North Africa.
Besides generating interest in anime in Saudi Arabia, the expo was important for Japan's anime industry overall, since it demonstrated the potential for content-related business in the Middle East. Recognizing anime and other Japanese content as original and valuable assets, Dentsu aims to continue promoting them in new projects and events around the world.
Overview of Saudi Anime Expo 2019
Dates: November 14—16, 2019
Venue: Riyadh Front Expo Land Hall
Sponsors: General Entertainment Authority of the Kingdom of Saudi Arabia(GEA) and Sela Sport
Organizer: Saudi Anime Expo 2019 Committee (GEA+Sela Sport+Dentsu).
Supporter: The Association of Japanese Animations
Exhibitors: 41 companies
Related Links
Saudi Anime Expo 2019 Twitter (official)
Enquiries
Kakizaki / Tani / Ishiwatari (Dentsu)
https://www.dentsu.co.jp/en/contactus/