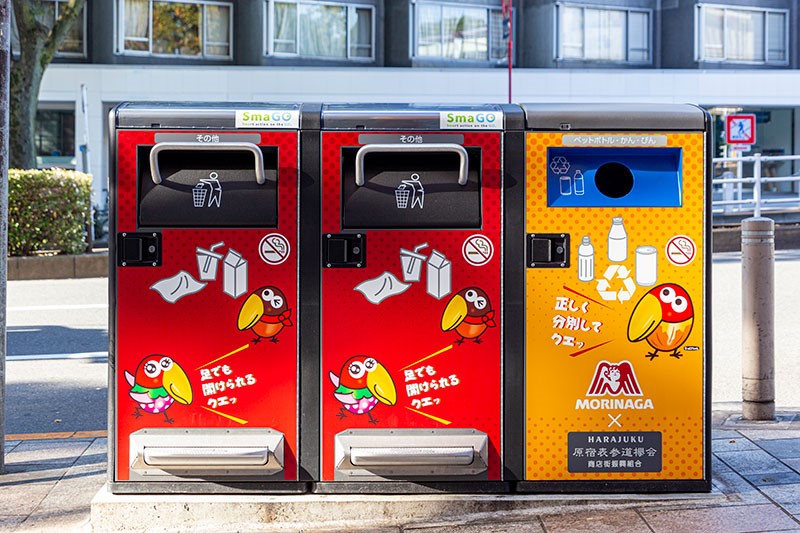 Through a project devised by Dentsu, Japan's first "smart" public waste and recycling bins have been sponsored by Morinaga & Co., Ltd., a leading confectionary manufacturer whose corporate massage is "Delicious, Fun, and Healthy."
Morinaga has been carrying out community engagement and sustainable growth initiatives, and is especially keen to help achieve the United Nations Sustainable Development Goals (SDGs).
In response to Morinaga's request, Dentsu's project team suggested that the company enhance its corporate image by sponsoring public waste and recycling bins that feature Internet of Things (IoT) technology and are branded as SmaGO (a contraction of "smart action on the go").
The initiative was picked up by a number of television news programs and gained broader media coverage than had been expected. Moreover, the SmaGO bins were placed in Tokyo's Omotesando district, a sophisticated and trendy part of the city that restricts product advertising on public facilities. Thus their distinctive use as an advertising medium was even more pronounced.
Recycling bins Get IoT tech
The SmaGO brand smart waste and recycling bins are supplied by Force Tech Co., Ltd. Powered by a solar panel on the top and equipped with IoT technology, the bins detect how full the waste container has become and report the data in real time to a cloud server over a 3G network.
When a container is full, a compactor inside the unit automatically compresses the contents, allowing the bin to store five to six times more waste than ordinary trash bins of the same size.
The features contribute to lower garbage collection costs and more efficient collection services that, in turn, can help reduce associated CO2 emissions. Furthermore, the bins do not consume electricity from the local electrical grid because they are powered entirely by their solar panels.
In addition, the SmaGO bins are designed to be touch-free, as their lids are opened using a foot pedal. Since users can throw away items without touching the lid, the bins are perfectly suited to the new normal of the COVID-19 pandemic.
These kinds of public trash bins have already been installed and verified in trend-setting cities such as New York, Sidney, and Dubai, but they had not been adopted in Japan prior to this initiative.

SmaGO bins provide a solution for a local problem of excess garbage
By enabling partner companies to sponsor public waste and recycling bins fitted with IoT technology through advertising on the exterior of the bins, Dentsu has created a framework for helping communities substantially reduce the cost of installing the bins and collecting the trash.
This opens up possibilities for distinctive socially conscious advertising campaigns that can involve not only corporate sponsors, but also members of the public who use the bins.
When this project started, litter and overflowing waste bins were commonly seen on the main zelkova tree-lined avenue in the Omotesando district. This created a problem for local authorities in charge of waste collection, including the district's neighborhood association, as well as Shibuya and Minato wards.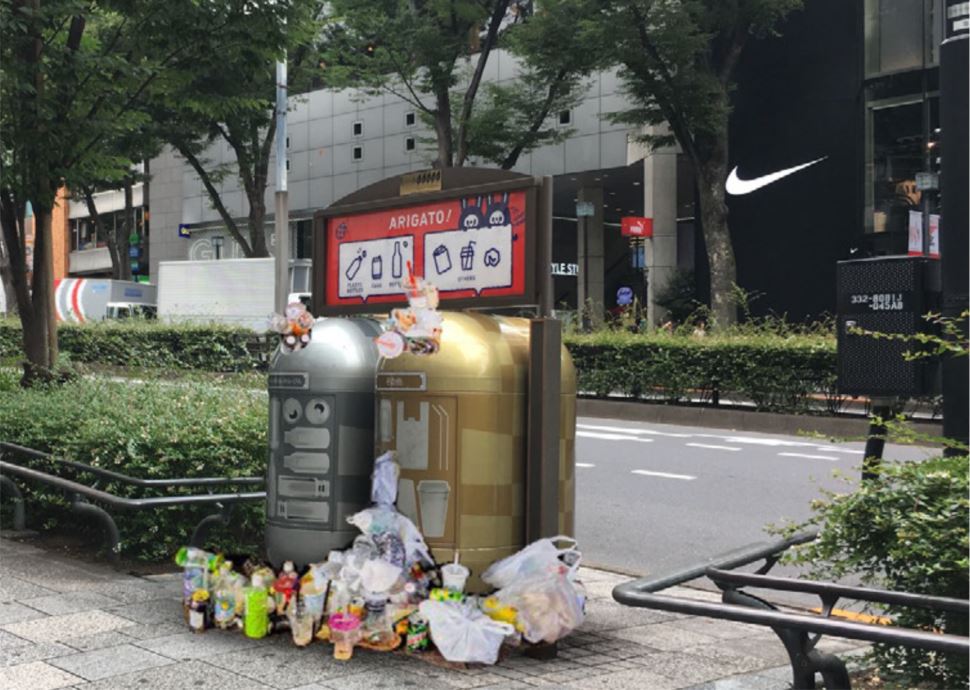 At that time, Morinaga's management was planning to set up a dedicated dedicated sustainable team. While no specific initiatives or budget had been decided, Morinaga's advertising department was examining what the company could do.
It was in that context that Dentsu came up with the proposal for Morinaga to sponsor the SmaGO bins, explaining that Japan's first public waste and recycling bins equipped with IoT technology in Omotesando would provide a highly effective way to advertise products and, at the same time, offer the added benefit of making possible an SDG-related campaign.
From product ads to SDG promo
Accepting Dentsu's initial proposal, Morinaga decided to sponsor the bins.
However, Dentsu's project team then learned that local association and ward regulations forbid product advertising on public facilities in the Omotesando area. So, instead, the team suggested that Morinaga switch from a product advertising to a corporate advertising campaign, designed to enhance its corporate image.
Specifically, by enabling users of the SmaGO waste and recycling bins to help keep the district clean, the company could link the campaign to its SDG initiatives and raise its profile among members of the public and the Morinaga Group.
Further, the company could gain media attention by sponsoring Japan's first IoT-equipped public waste and recycling bins, which are already being used in other countries. Recognizing the advantages, Morinaga agreed to go ahead with the corporate advertising campaign instead of the initial product advertising plan.
Media cover Japan's first IoT-tech touch-free public waste and recycling bins
On October 8, 2020, the SmaGO waste and public recycling bins were installed as planned, and a public relations event was held to celebrate the occasion. The Omotesando neighborhood association head and the mayor of Shibuya Ward attended.
The initiative was covered by the news programs of several TV stations, including Japan's public broadcaster, NHK, and proved even more newsworthy than the project team had imagined.
By sponsoring an initiative aimed at helping solve waste collection problems in Tokyo, Morinaga was able to gain wide media exposure that would normally require an advertising budget of about ¥132 million.
The campaign was topical, because the waste and recycling bins not only help reduce litter, but also allow users to throw away items without touching the bins. That is especially relevant given the ongoing pandemic.
Although the project initially had hit a snag with local regulations, Dentsu's team had been able to discuss this with the client and subsequently put the project back on track by shifting to a corporate advertising campaign.
As a result, the team helped Morinaga enhance its corporate image, link the campaign to its SDG initiatives, promote the adoption of IoT technology, and reduce litter in Tokyo through the use of innovative SmaGO waste and recycling bins. The touch-free bins also have made it safer for users and waste collectors during the COVID-19 pandemic.
All members of Dentsu's project team are looking forward to further exploring solutions for communities and companies through projects such as this.
Related Links
Morinaga's webpage featuring the initiative (Japanese language only)
Enquiries
Hiroaki Kawakami (Dentsu)
https://www.dentsu.co.jp/en/contactus/