Held in the spring of each year in the United States, South by Southwest (SXSW) is a conglomerate of music, film, interactive media festivals and conferences. Large numbers of companies and creatives from around the world participate in the events and talk sessions, and exhibit products and works that offer a glimpse of the future. New technologies and business ideas are showcased at the SXSW Interactive Festival, which is well known for drawing attention to newly launched services—including some that went on to become global successes, like Twitter and Airbnb. At this year's festival, as well, all kinds of new business seeds were put on display.
Dentsu exhibited four different projects in the festival's trade show this year under the development concept Pointless Brings Progress, which we featured in the first installment of this series. In the four subsequent articles of the series, we are giving the spotlight to the creatives who oversaw the development and production of each exhibited project.
For this installment, we spoke with Makoto Yamashita, a production manager at Dentsu Creative X and a member of Dentsu Craft Tokyo. He was involved in the planning and production of Hankohan, a system that integrates facial recognition and augmented reality (AR) technology to produce a hanko seal, a traditional form of personal identification in Japan. We asked him about what went into the production of this system, illuminating his own character in the process.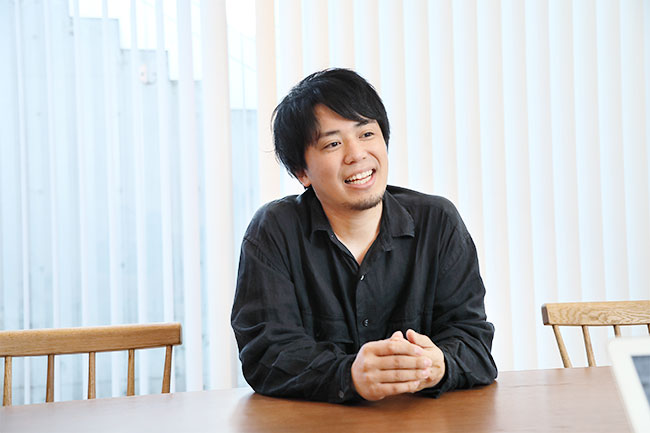 The idea to create a seal that reveals the owner's face came from a desire to create something that could help people remember each other
Please tell us about Hankohan.
It is a Japanese-style personal hanko seal that is innovative in two new ways. Firstly, the design itself that the seal produces is innovative. Traditionally, the owner's name is engraved in a stamp, but we based the design on the owner's own face. Through an original algorithm, the design is created from a scanned photo of the user's face, made possible using facial recognition technology equipped in a smartphone or similar device. Along with that, the design combines the facial features with the user's initials. Since the seal's impression shows a representation of the owner's face, Hankohan is even more personal than the conventional hanko seals used in Japan.
It is also innovative in the way that it integrates AR. Specifically, when you look at the seal's impression using our specialized app, the image of the owner's face and other data actually pops up over the design. A website address can be displayed along with the face, and by clicking on it, you will go to a website containing information about the owner.
These ideas came to us when we were thinking about what to exhibit at SXSW, particularly when we asked ourselves about the nature of the festival itself. Essentially, SXSW is a venue for all kinds of people to check out the latest technologies and seek out businesses that will lead the future. That being the case, we could certainly expect to meet a large number of people and exchange business cards. Meeting so many different people from various countries, means that it is easy to forget who they are when you look at their business cards later. That is what gave us the idea to create something that would enable everyone to remember each other's faces.
Compared with simply exchanging business cards, there are more steps involved when using Hankohan. One needs to take it out of a case, press it on a little pad of red ink and stamp it before the image can be viewed with the AR app. I wondered whether such a tool would be suitable in our digital age, as nowadays, so many things can be done with just a single touch of a screen, but as digital experiences progress, I think people want more analog experiences, too.
Opportunities to use real hanko seals will probably decline in the future, but using a hanko seal has its charms and is a unique custom, to be sure. That is why the Japanese have continued to keep this tradition alive. I hope we can give it a new lift by making use of the latest technologies.
As Japanese culture attracts interest worldwide, we can rediscover its value using digital technologies
How did people at SXSW respond to the product?
The response was great. About thirty percent of people who visited our booth were Japanese, and they were very interested in the idea of a hanko seal designed based on the user's face. The majority of visitors were not Japanese, of course, and they were especially fascinated by Japanese culture. Ironically, while our culture appears to be losing vitality here in Japan, it is in demand overseas. The convenience that we have come to enjoy in Japan is very nice, but if that results in losing traditional elements of Japanese culture, it will be a real shame. That realization really hit home when I was at the event space.
Besides hanko seals, many other elements of traditional Japanese culture will probably diminish in the future. Nonetheless, Japan has accumulated technologies over many years and has attracted attention for its unique innovations. From that perspective, by combining its traditions with such innovative technologies, Japan can rediscover the value of its culture. After developing and exhibiting Hankohan, I strongly believe that is possible now.
Admittedly, however, producing Hankohan for the exhibition required an awful lot of work. To begin with, to design a seal based on a face and have it viewable via AR were two very big challenges.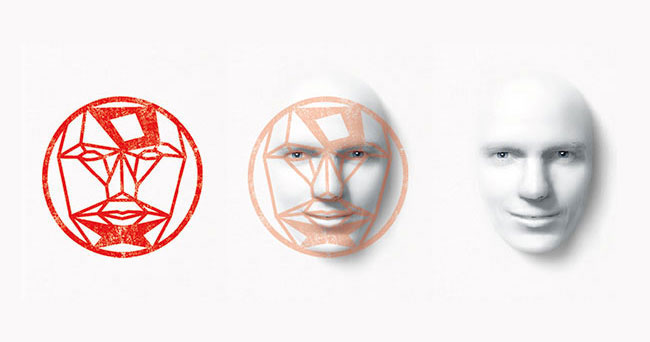 Generally, I produce television commercials and videos as a production manager. A production manager's job mainly involves overseeing workflows, auditioning the actors and performers, and managing the project budget. So, from the outset, I did not have a lot of experience in creating and producing a product like Hankohan. On top of that, in the Hankohan project, I was practically the only supervisor in charge of the concept video production, auditioning, budget management, design work, direction, the webpage, copywriting, and the production and creative work. I received support from the company's project members, of course, but I felt like I was performing the roles of two people: one handling the project management side, such as the budget and schedule, and the other handling the creative side. I was adopting both perspectives in my mind, as there were things I wanted to create but I had to consider the cost and deadlines—yet I still hoped to create them. I was switching back and forth between those roles in my own head, which was not easy.
By broadening my expertise, I hope to be like a one-man production company someday
Producing a product for SXSW was outside the scope of your usual work, so how did you become involved in this project?
I became involved because I wanted to broaden my areas of specialization and develop my capabilities. I have mainly been doing video production work since joining Dentsu Creative X, but, at the same time, I have also been working with Dentsu Craft Tokyo. It is a team of professionals from various backgrounds, and they place a lot of importance on broadening their expertise. For example, many members of the team can handle a wide range of work spanning from direction to planning and design. Seeing them in action inspired me to take on the challenge of developing new skills outside the realm of production management.
Actually, I studied documentary film production in my college years, but I also wanted to experience what it is like to be in front of the camera, so I performed as a stage actor during my school years and after graduation. I joined my current workplace on a part-time basis around the time I was an actor, and then quit acting when I became a full-time employee and started my main job as a video producer. In retrospect, I guess I was trying to expand my areas of expertise and gain more skills in those days, as well.
Exhibiting at SXSW was also a new challenge. In video production, too, besides doing the job of a production manager, I am also actively involved in creating stories and ideas for the production. Because I am a member of a team that produces videos collectively, I try to make sure that the ideas I put forward go beyond my own expertise. If I don't do that, my ideas might not be very useful, depending on the project.
In the future, I want to steadily broaden my abilities with the goal of becoming someone who can handle every single aspect of video production. In addition to planning and production, I can even do some acting! I truly think people who can film, edit, and direct like a one-man production company are really valuable in this day and age, because having all those skills can enable them to smoothly negotiate and deal with people in the industry, and produce work that has an integral perspective and consistent message. I also hope to use such a wide range of abilities to my own advantage. That is the kind of creative I want to be.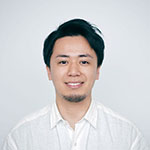 Makoto Yamashita
Production Manager
Dentsu Creative X / Dentsu Craft Tokyo