The world's first dictionary compiled from user-posted videos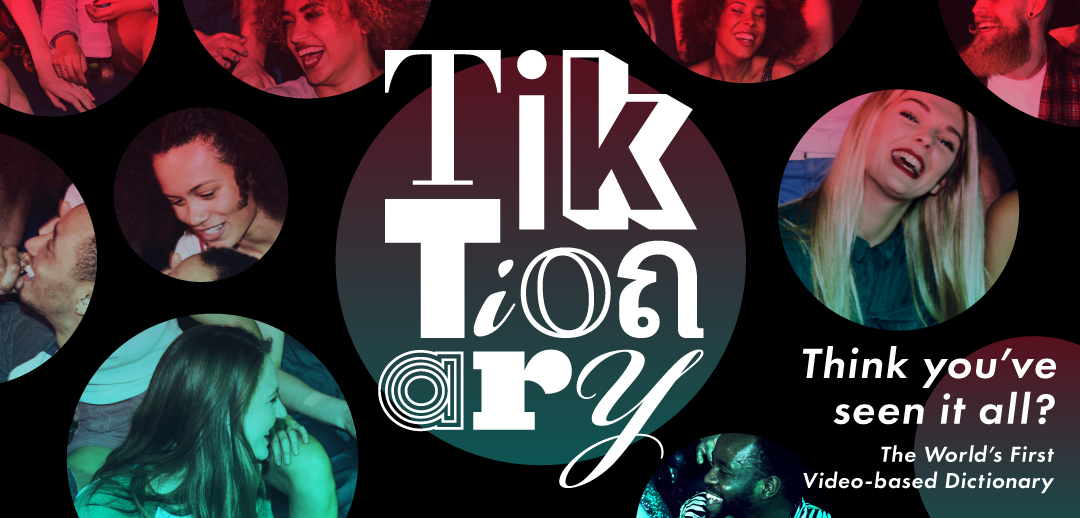 TikTok is the leading destination for short-form mobile video. The video sharing service is becoming increasingly popular with young people for entertainment, learning, and fun.
TikTok For Business recently consulted with Dentsu about how to target a broader range of the users to make the contents even more useful. Given that TikTok is already popular in more than 150 countries, Dentsu needed to come up with a completely new idea.
Creating massive value
Responding to the challenging request, Dentsu's creative team proposed compiling a dictionary based on videos submitted by users.
This would allow all kinds of words and concepts, from around the world, to be conveyed visually through TikTok's short-form videos. To date, no such dictionary has been created.
Essentially, dictionaries define and explain words through words. In practice, however, people often have fixed ideas about words, based on personal preconceptions. Moreover, fixed ideas are often constrained by national, regional, ethnic, and cultural differences.
With that in mind, Dentsu's team imagined the possibility of expressing concepts visually using the endless variety of videos uploaded to TikTok by its diverse, global users.
Those videos, the team believed, could be compiled into a dictionary-type service. TikTok For Business agreed to the proposal and set out to jointly develop the service with Dentsu.
TikTok + dictionary = TikTionary
The new service was called TikTionary, a combination of the name TikTok and the word dictionary.
To use the TikTionary, just look up a word preceded by a hash symbol. For example, entering the hashtag #greeting will bring up numerous videos about greetings. They include a Japanese apprentice geisha offering her business card, teammates giving each other high fives, and animals sniffing each other.
The videos reflect the various ways of conveying the word depending on nationality, gender, standpoint, and so on. Entering the hashtag #hero, for instance, will bring up a video of a child dressed up as a hero, a father viewed from the perspective of his child, and firemen risking their lives to fight a fire.
Such multifaceted ways of conveying the words are what make the TikTionary so special. The service offers opportunities for users to look beyond the formal definition of a word to get a glimpse of how fascinating and varied the world really is.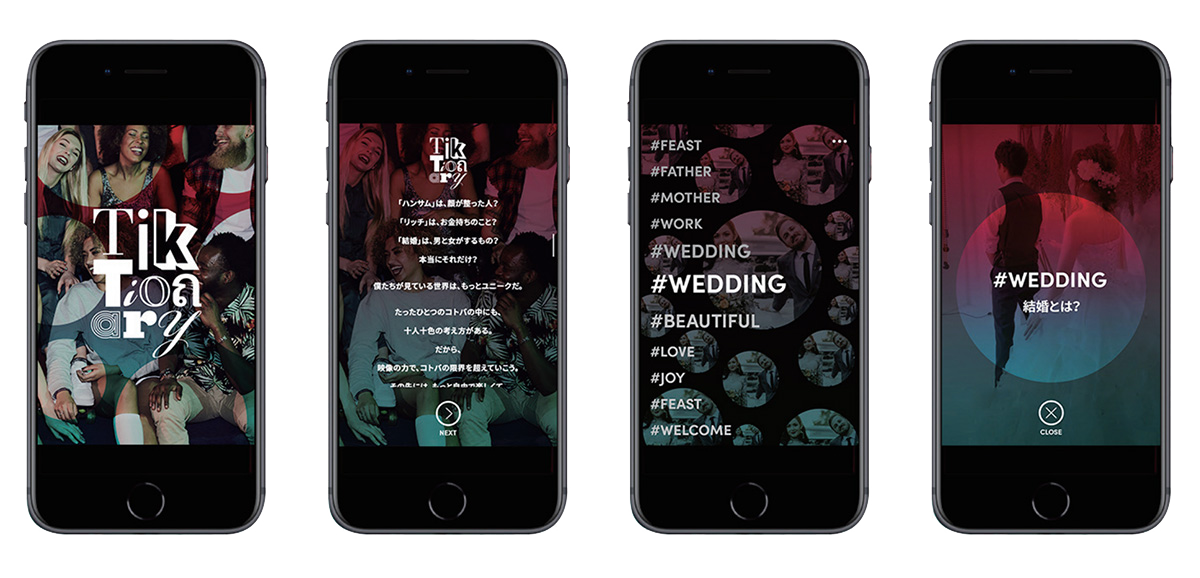 When developing the TikTionary, the creative team analyzed and edited hashtags of videos already posted on TikTok by members of the public. It then created a system for displaying the content in a way that it thought may help eliminate subjective assumptions, prejudices, and stereotypes.
Further, the system allows words looked up by users to be machine translated into any of 17 languages and instantaneously retrieves videos posted by users using various synonyms in hashtags. It not only serves as a dictionary, but is fun to use and provides insight, as it presents new and entertaining content.
Education, intercultural communication
The service was launched on November 16, 2019, the International Day for Tolerance. This day has been designated by the United Nations as a day for "fostering mutual understanding among cultures and peoples."
In Japan, the TikTionary has been used as a learning tool at some schools and universities. It has been endorsed by various programs and organizations involved in promoting international experience and interest in foreign cultures among Japanese youth in their 20s, who have been traveling abroad increasingly less in recent years.
The promotional programs include the Leap for Tomorrow public–private study abroad initiative, led by the Ministry of Education, Culture, Sports, Science and Technology, as well as the AFS Japan study abroad program, and activities organized by the Japan Foundation for Intercultural Exchange.
A genderless, ageless, and borderless dictionary
The strength of the TikTionary is that it may help people transcend borders and create a shared future together.
The service allows users to learn how fascinating and diverse the world is today, while perhaps overcoming their personal biases and assumptions about words.
Were that to occur, it would create opportunities for people to communicate and help break down divisions that separate them. By hoping to facilitate such behavior, TikTok and the TikTionary could serve as a force for good in today's world.
Inquiries
Koziro Kidu (Dentsu), Shota Matsumoto (Dentsu Creative Force)
https://www.dentsu.co.jp/en/contactus/