Sponsored by The One Club in New York, Young Guns is an international awards event for young creatives who excel in their professional careers. In 2018, 82 finalists were selected from hundreds of entries from about 40 countries, and 30 were awarded a Young Guns 16 prize. Among them was Satoshi Kohno, an art director from Dentsu's Creative Planning Division 3.
At Young Guns, each entrant submits a portfolio of six works for judging, and the individuals themselves are selected for the awards. Satoshi Kohno, the only award winner from Japan, was highly evaluated for several of his works, including "History of the Internet," a topical work for a Yahoo Japan campaign, and "72 posters for school teams participating in the high school sumo tournament," originally published in the Hokkoku Shimbun newspaper. We spoke with him about the production of these works and his aspirations as a creative.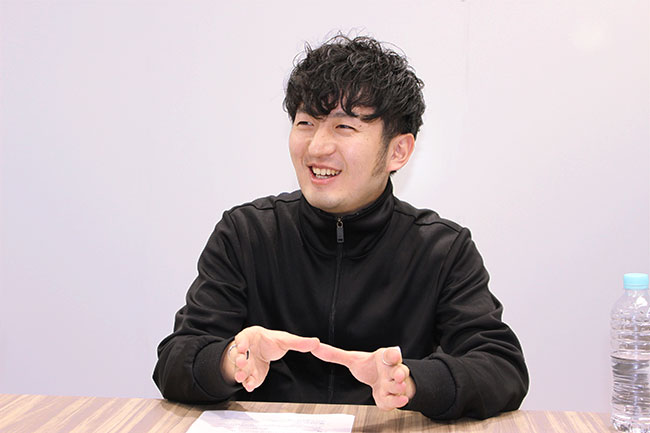 Visualizing the overwhelming amount of information we have amassed with "History of the Internet"
"History of the Internet" appeared to be an important factor in your winning a Young Guns 16 prize. Please tell us about this work.
I created it for Yahoo Japan's twentieth anniversary, which was on April 20, 2016. It was a huge picture scroll depicting the history of the internet.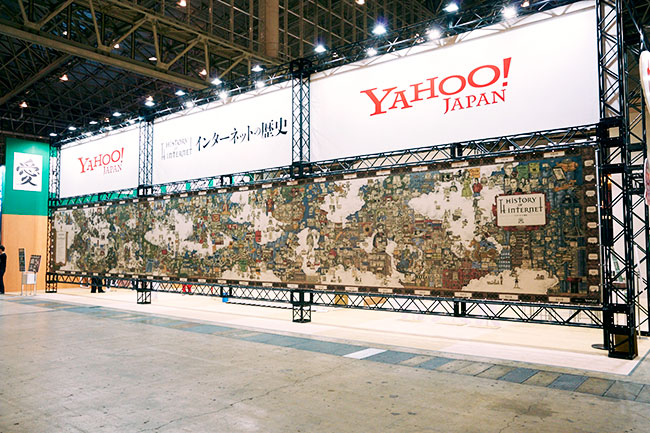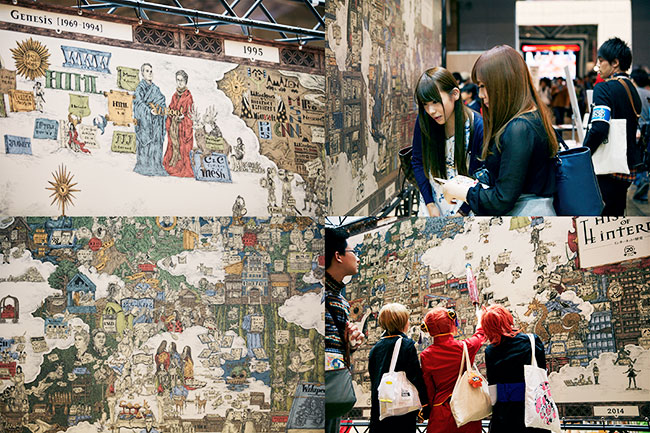 At first, the client asked us to make a chronological table of the internet. Later, however, during discussions between representatives from the client's side and members of our team at Dentsu, the idea was changed to displaying the chronological table as an old-fashioned Japanese picture scroll. The concept was to present an objective history of the internet in Japan in a way that was completely non-digital.
The project started about nine months before the campaign launch, but even though the production time was rather limited, we packed a lot of information into the work. Firstly, to represent the history of the internet, we selected a wide array of relevant events and milestones. Then we categorized them, selected and ranked them in terms of historical importance, and created infographics to typify the information and data visually. About 1,300 separate historical events were chosen.
When making illustrations based on the infographics, the big question was how to create them in a way that would not simply and obviously depict the history of the internet. Needless to say, the history of the internet is not something we can directly see, but it is, in actuality, a massive amount of information accumulated over the years. We had to create something that could immediately convey that fact while also making people appreciate just how amazing that history is. For those reasons, after the layout was arranged as a design, we made a detailed illustration of every single historical event. I really wanted the overall appearance to emphasize how an incredible amount of information has been amassed over the internet's history.
Meanwhile, the plan was to display the picture scroll on a wall mural more than 18 meters wide. Therefore, we had to ensure that every detail was accurately reproduced by the illustrators so that the picture quality would be maintained even when viewing the mural close up. Keeping that on schedule was certainly a challenge!
Various motifs were used to depict each historical event shown in the picture scroll. The internet's history was also linked to world history to some degree. For example, I associated the year 2005 with world history by making it correspond with Japan's Meiji era (1868 to 1912). Likewise, we illustrated scenes from the Book of Genesis as the backdrop for the internet's beginnings. The emergence of social gaming was represented by scenes of samurai in battle during Japan's Warring States period (from the mid-15th to mid-16th centuries). I think these separate scenes of the work are enjoyable to look at even on their own.
The campaign won a Gold Cube award from the Art Directors Club (ADC) of New York, and was very well received at Yahoo Japan, which has run the campaign every year since its launch in 2016. I was involved in the project again in 2018.
Reframing sumo's long-established traditions in a contemporary form
One of your works that was praised at the Young Guns 16 awards was "72 posters for school teams participating in the high school sumo tournament," which was created for a nationwide high school sumo competition. It also won prizes in two categories at ADFEST in 2019. Could you tell us about it?
It was for an ad to promote the all-Japan high school sumo tournament held annually in Kanazawa Prefecture. It was a major advertising campaign coinciding with the tournament's 100th anniversary in 2016.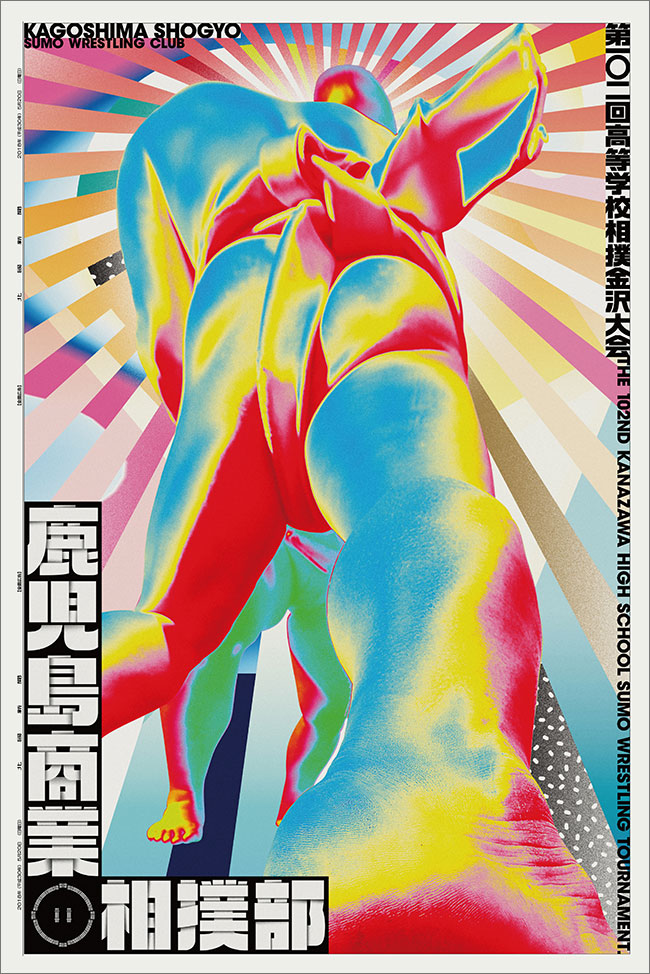 A big ad campaign was requested at the orientation, but the reality is that the number of high school students who are members of sumo wrestling clubs today is not very large. Given that fact, rather than try to raise the excitement surrounding the tournament, we took a step back and decided it would be better to boost the appeal of high school sumo clubs around the country. We thought that would bring energy to high school sumo while also helping to reinvigorate the tournament itself. Based on that approach, we created a sumo club poster for each of the 72 schools participating in the tournament, and displayed them at the event venue. Then after the tournament, the posters were distributed to each of the respective clubs so they could use them for recruiting new members.
I paid very close attention to re-portraying sumo matches with visuals suited for today. Sumo is not only Japan's national sport; during the country's Edo era (1603 to 1868) everyone was very excited about sumo. As the times changed, however, the visual image of sumo became old and dated. With that in mind, I wanted to evoke the desire to wrestle in a tournament that men felt in older times by capturing the dynamism of sumo from a contemporary point of view.
I felt that the essence of sumo comes down to the force of the two wrestlers charging into each other. Using color to represent that force, I combined complementary colors with high contrast to create bold visuals. I also used various camera angles for effect. There are only a few standard camera angles shown in television broadcasts of sumo tournaments, so I wanted to show the wrestlers from completely different angles, such as from the foot of a wrestler as he throws his opponent.
Sumo matches themselves have not changed for a long time, but by portraying them from a contemporary perspective, I tried to highlight the potential of sumo for today's generation.
The first priority as an art director
What do you give particular attention to as a creative?
I imagine how to express the essence of things in their ideal forms. Of course, a thing may change and grow distant from its ideal form depending on the time and place. Sumo wrestling, for example, is a sport that men dreamed of doing and the wrestlers were superstars, but it will drift further away from that status unless we change the way of promoting it to fit with the times. Similarly, the history of the internet is not something we can see tangibly, but it has brought an immense amount of information. So, I start by considering what the ideal forms of such things are, and how to express those forms. If I can uncover their ideal forms, I hope to be able to reaffirm the value of such things for people today.
Personally, I still have room for improvement in every respect. The Young Guns 16 award recognized a series of works I produced with the help of various colleagues in my current workplace, such as creative directors and copywriters. Based on my own talent alone, there is no way I could have won this award. Therefore, at any rate, now I want to refine my skills as an art director and graphic designer.
Specifically, now I intend to focus on graphic design as much as possible. There is a wide range of possibilities for design in advertising nowadays, but since I don't have enough skills, I would end up being a mediocre designer if I pursued multiple styles. For that reason, I would like to start by specializing in graphic design, and then after I develop as a professional, I think my skills could be beneficial to my colleagues and in other areas of specialization. If someone thinks of me when considering how to complete an outstanding work, I would feel very gratified.
I was assigned to do this work because I am enthusiastic about attractive design and have created such works myself. Along with my regular ad production duties, I would like to work on more designs that express aspects of our culture. When doing so, I will consider the essence of things in their ideal forms and try to create works that are genuinely beautiful and attractive. With that outlook, I hope to produce emotive and evocative designs in the future.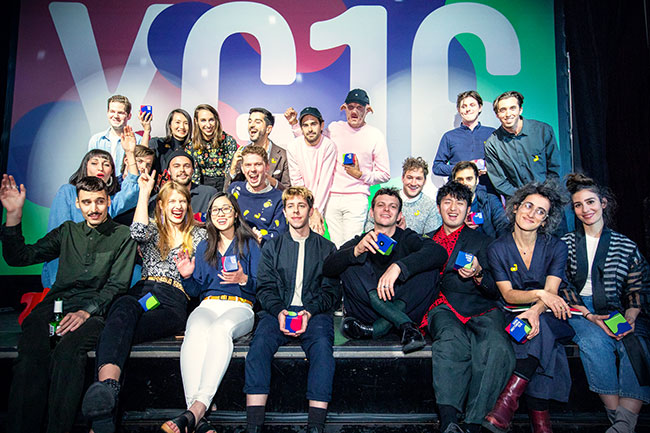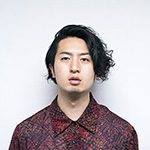 Satoshi Kohno
Art Director
Creative Planning Division 3