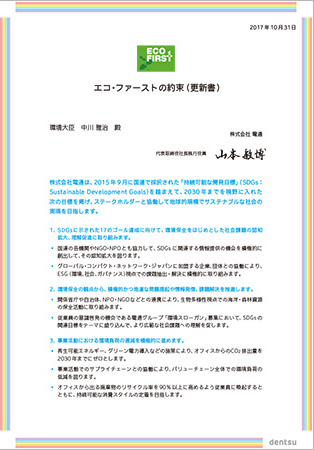 Leader in Environmental Communications
As an Eco-First Company, certified under the Eco-First System launched by the Ministry of the Environment, Dentsu has declared to the minister of the environment that it will collaborate with stakeholders in contributing globally to the realization of a sustainable society.
Specifically, Dentsu will promote measures to reduce the Company's environmental impact by, for example, using renewable energy and boosting the waste recycling rate at our offices. At the same time, we will collaborate with UN agencies, NGOs, NPOs, corporations, and organizations affiliated with the Global Compact Network Japan.
We thus plan to create opportunities for providing information and increasing awareness regarding the SDGs, as well as to identify and resolve issues from the perspective of the environment, society, and governance.
In addition, as an industry leader, we are developing various activities that contribute to the further progress of Japan's global environmental conservation efforts in collaboration with Eco-First companies and environmental administrations.