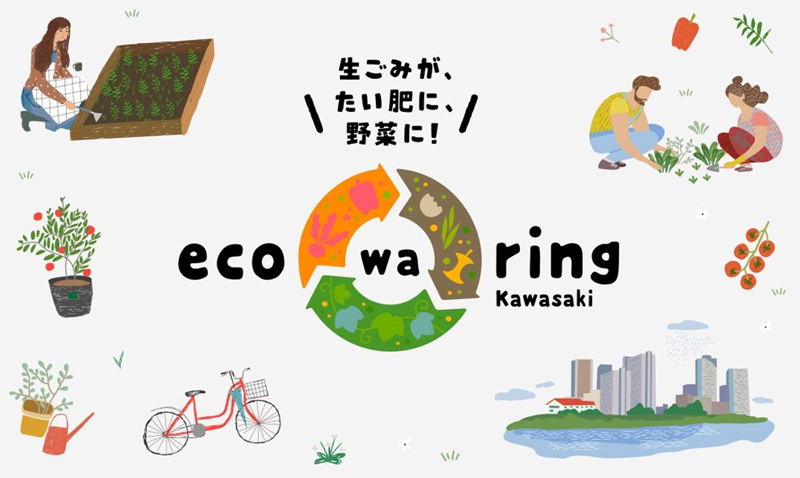 Municipalities, companies, farms, residents collaborate on food waste recycling, food cycle program
Kawasaki City, Dentsu Inc., Local Food Cycling Co., Ltd., and Trustridge, Inc. have teamed up to create communities that facilitate nutrient cycling through the promotion of self-directed and local food product recycling. This they have done through the Kawasaki Eco-friendly Recycling Project.
The aim of the project is to produce safe, sustainable, and edible vegetables by creating compost from food waste, discarded by households in Kawasaki City, that is collected using special processing bins placed in homes. The compost can later be used to grow vegetables at farms or community gardens within the city.
Activities associated with the project fall into two categories: self-supporting food cycle activities, through which collaborating companies and institutions play a primary role in the development of the community gardens; and cooperative food cycle activities primarily focused on developing local farms.
Local residents, farms, companies, and municipalities are coming together in this project to conduct initiatives aimed at reducing and recycling waste; lowering CO2 emissions; facilitating urban development and the revitalization of regional communities; as well as contributing to the achievement of Sustainable Development Goals (SDGs).
The Ministry of the Environment's "2021 Food Loss Reduction/Recycling Promotion Model Project by Local Governments, Businesses, and Other Entities" was adopted for this initiative, which was implemented as a single-year project in FY2021.