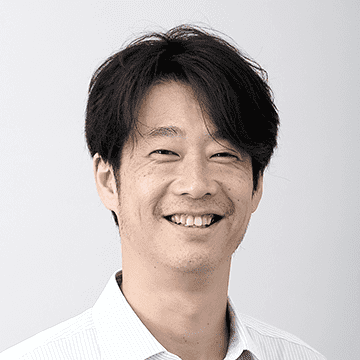 The Role of Ads in Business Growth
As Dentsu works to achieve advertising transformation (AX) and so maximize advertising value, one may well ask why AX is necessary.
The reason is that Dentsu is committed to assisting client companies attain sustainable growth, and a necessary element of this is marketing, which domain includes advertising. In short, realizing our mission hinges on maximizing the benefits of advertising.
In this context, Dentsu is always considering whether there is room to increase further its contribution to business growth through the sale of products and services.
There is no single answer; our efforts adapt to reflect shifts in the consumer environment. Thus our analyses of measures are ongoing, with results reflected in subsequent measures as we constantly seek to maximize further our results. AX enables us to do this.
In our bid to achieve AX, we promote efforts along what we have termed the axis of sophistication and that of explosive power. Because the axis of explosive power is discussed in other article, I will here explain only the axis of sophistication.
Using Technology to Grasp Advertising Results; Effect Analyses, PDCA Cycle Mechanisms
Until now, we have not had sufficient data to verify the efficacy of Dentsu's detailed analyses of individual ads and PDCA processes, making it impossible to quickly reflect improvements in advertising. We have lacked data on the efficacy of television, radio, newspaper, magazine, and out-of-home (OOH) advertisements, compared with that of online advertising, which is the first area to have advanced. At the same time, it was also not enough to simply evaluate effectiveness across media.
However, technological advances have enabled us to discern the previously unseen effectiveness of advertising, and to capture responses that until now had been elusive. We thus are creating mechanisms to determine previously unrecognized advertising effectiveness.
Consequently, our efforts are currently focused on using the advanced technologies to manage more highly effective advertising, based on new evaluation indicators.
We believe that increasing the efficacy of advertising will support advertisers and provide a tailwind for media growth. The efficient placement of highly effective advertising will enable media professionals to focus on creative efforts and work that is beyond the ability of machines. This will surely lead to content quality improvements.
Moreover, more effective advertising should lead to the securing of production expenses. The greater sophistication will give rise to a virtuous cycle of growth for advertisers and media: work in which Dentsu should engage.
The bid to attain AX sophistication involves creating an environment for the rapid implementation of the PDCA cycle as it applies to advertising. The results of measuring the efficacy of each advertisement and analyzing the improvements can be reflected in subsequent advertising.
By assisting in a variety of corporate advertising, Dentsu hopes to become a hub for accumulated knowledge that it shares with client companies. To fulfill this role, we will create a mechanism to allow the rapid implementation of the PDCA cycle in all advertising campaigns.
In this regard, we note three requirements:
Digitalization of operations
Visualization using data
Evolution of transaction formats
Fundamental to the rapid implementation of the PDCA cycle is the digitalization of operations. For greater speed, digital technology must replace work done by people on paper. Such technology is also necessary for data-based visualization.
Visualization using data is necessary for the C (check, evaluate) of the PDCA cycle. If we are unable to measure advertising efficacy, we cannot apply the PDCA cycle to current and subsequent advertisements. This would interfere with Dentsu plan to leverage the technological advances that have made it possible to measure in detail the efficacy of television, radio, and OOH advertising.
Some 50% of all televisions in Japan are now internet-connected. This allows us to combine television viewing data, smartphone search data, and location information in a way that does not identify individual users, yet enables us to analyze the behavior of people with a variety of attributes after they have viewed advertisements.
Whereas previously viewers were separated according to segments—such as M1 and F1, or by gender and age—we now also can analyze attributes, such as annual income, family composition, interests, and preferences.
Further, with regard to OOH, we are able to identify people who have viewed ads based on smartphone location information. In addition, we are developing methods for measuring advertising effectiveness based on subsequent behavior.
By using data to analyze ads in this way, future advertising planning should be more effective than it has been to date.
Thus, while television advertising between 19:00 and 23:00 was traditionally considered prime time and key, now—depending on the content—late night timeslots may have a higher ratio of targets among the viewing audience.
Were this the case, compared with that of the past, demand will be for flexible buying of advertising spots, necessitating an evolution in transaction formats.
If a campaign seeks to create a buzz on social media, the best schedules for advertising are times when viewers tend to post frequently on Twitter. Although these times can be calculated using digital data, up to now, television advertisements have often been limited to specific placement patterns, making it inexpedient to pinpoint advertising placements in target timeslots. This is a situation that Dentsu wishes to change, making it possible to have more flexible spot placements for ads.
Further, Dentsu currently is creating a new transaction format that will allow elements of advertisements to be changed immediately before the ads are aired. This would reflect needs dictated by such factors as program content and weather conditions.
Such changes involve the use of AI and quantum computers. In some cases, changes have already been introduced and already contribute to increased product sales.
AX sophistication first requires the digitalization of advertising operations. Then, based on that ad data, it entails the visualization of advertising-related efficacy data.
In addition, sophisticated transformation allows advertising transaction formats to evolve, the efficient delivery of advertising and, ultimately, advertising to have maximum efficacy.
Dentsu is promoting this project in the knowledge that the creation of better advertising will invigorate mass communication.
Data Visualization Finds Ad Spot Value
Below, I discuss concrete solutions we can provide through the above three initiatives. I start by touching on visualization using data.
As already mentioned, it is now possible to acquire more detailed viewer ratings data than before from television, radio, and other formats. Visualizing this data leads to effective advertising strategies.
Thus, for example, if we place a television ad for product A, we can use data to analyze the attributes, annual income, life stage, and interests of people who frequently purchase the product.
Once the product A target group has been identified, the television programs this group watches are analyzed based on viewership data. This makes it possible to create strategies for broadcasting commercials during programs in which both data sets overlap. Dentsu's people-driven television planning is already using such data analysis in preparing ads.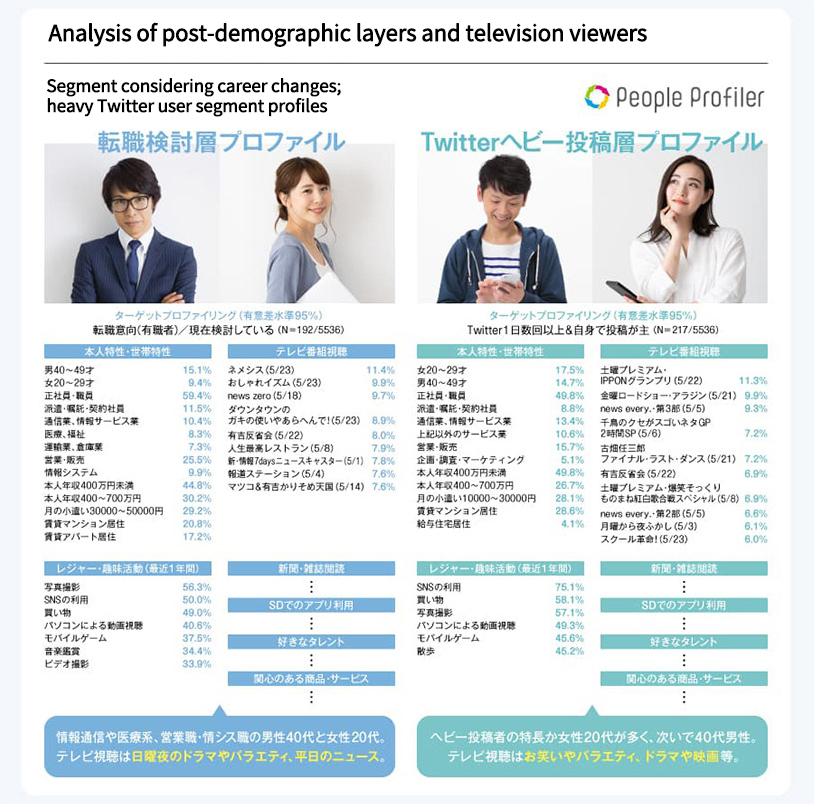 Since, up to now, television advertisements have been determined on the basis of viewer ratings, the percentage of the target segment for a company's products among total viewers has been important.
However, when comparing a prime-time program watched by, say, one million people with a late-night program watched by, maybe, 400,000 people, the late-night program audience may actually contain more core targets.
In fact, commercials for a certain career change website resulted in a higher number of visits by viewers late on Friday nights and on Sunday evenings rather than during prime time.
Late on Friday nights people are tired after work, while on Sunday evenings they are thinking about the start of a new work week. These times may be ideal for capturing the attention of people who are considering a career change. The visualization of data measures such details.
AI Delivers Optimized Advertisements Based
on Counterprogramming Trends, Weather
Such visualization of data requires a management system able to flexibly place ads in the spots expected to be most effective. For this to be possible, transaction formats must evolve.
Again, I use television as an example. Traditionally, television advertising spot placement patterns have been limited. To enable a more flexible selection of placement patterns, in addition to considering advertising purchase costs, Dentsu has developed effective spot planning (ESP), which allows for the efficient selection and purchasing of zones.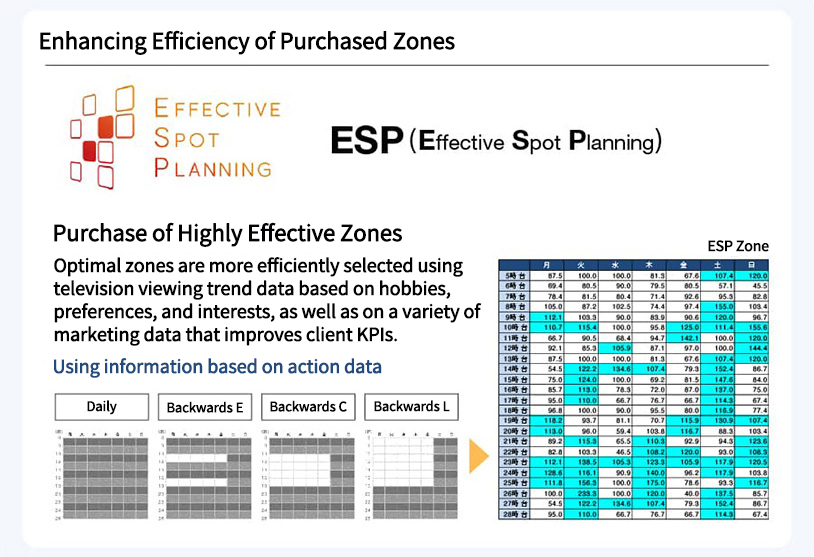 We have also developed a tool called SHAREST that uses AI to predict the efficacy of future advertising for all television programs.
Understanding, ahead of time, which advertising materials are likely to be most efficient when run during certain television programs allows ads to be appropriately placed.
Further, a tool called RICH FLOW selects and automatically assigns the most appropriate material from multiple commercials owned by a single company, based on the prediction of advertising effectiveness.
Even when commercials for products A and B come from the same company, AI analyzes the effects of the during the first week they are run. It can automatically switch the timeslots of A and B to reflect the analysis results.
Further, we have launched a function to replace not only commercials received from the same company, but also those from different companies.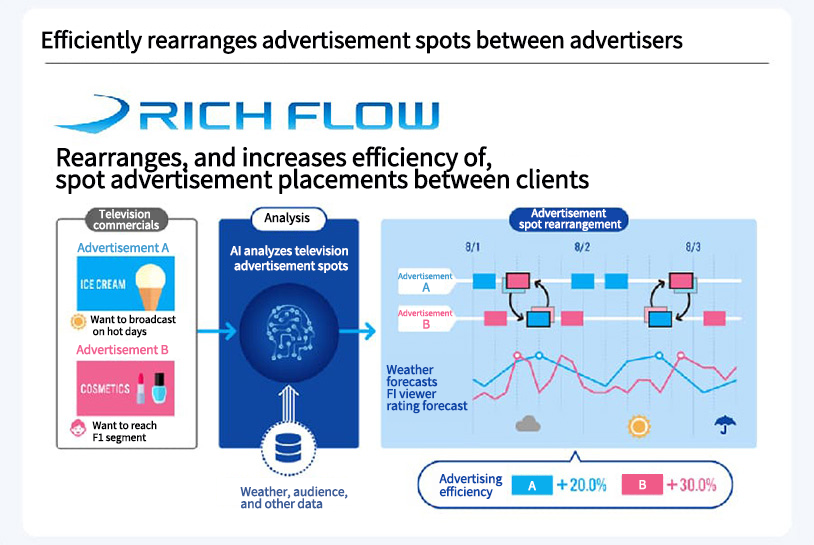 Let's look at the example of a television commercials for Morinaga ice cream products. Dentsu, together with the Japan Weather Association, developed a tool called UREBIYORI that predicts product demand in response to weather conditions.
Based on UREBIYORI predictions, Morinaga ice cream commercials are broadcast on hot, sunny days when ice cream is most likely to sell. Meanwhile, when the weather is bad, these advertisements are replaced by others. As a result, product sales have increased year over year.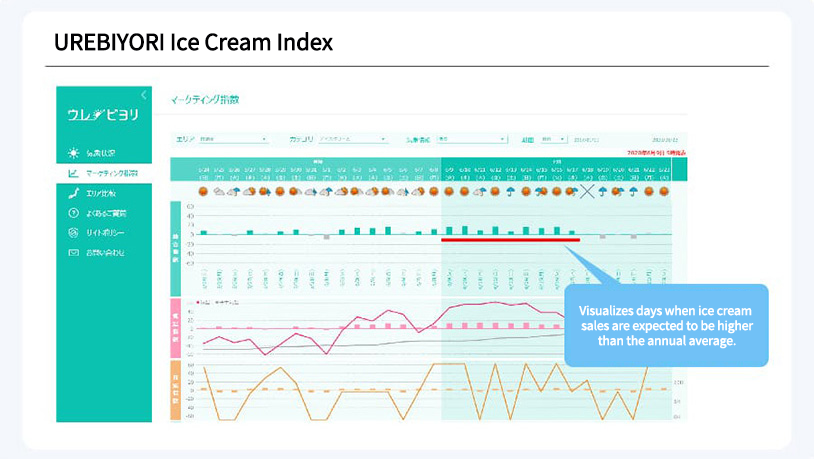 Of course, ads that are replaced and those that replace them would not be in competition. So, in the above example, the replacement commercial would be for a product not connected to weather conditions, thereby increasing advertising effectiveness for both clients. All this is done using AI and quantum computers.
The replacing of television commercials just before they air has not been done so far. This is because there are detailed rules for airing advertisements, and replacements made just ahead of air time may violate these.
However, as AI incorporates the relevant rules into its program when replacing advertisements, it is now possible to do things that previously have not been possible. Using AI and quantum computers, while working closely with broadcasting stations, we plan to make advertising replacement a reality.
Further, we plan to update our approach to television commercial agreements. Until now, agreements and costs generally have been based on advertising spots or advertising volume. Recently, we have started using a method according to which we bill to reflect the number of advertiser-specified target groups that have come into contact with advertisements. We have used this method in more than 20 campaigns and, in this way, plan to promote the evolution of transaction formats.
As a final point, I note that we must achieve the digitalization of operations if we are to promote all these efforts. Determining advertising slots and replacing advertisements on paper or by hand make it difficult to rapidly implement the PDCA cycle.
Digitalization is key to effective advertising management that does not increase the human workload. We are also promoting the transition to online and robotic process automation operations, but since this is an internal issue, I will omit the details.
Enhancing the effectiveness of marketing through the analysis of advertising data also entails the analysis of media users. This will surely lead to the invigoration of media.
The mass media in particular has fallen behind the internet in terms of implementing PDCA processes in advertising. That said, the appeal of the internet and of mass media differ. So, if the internet is where users go looking for their favorite content, mass media attracts users who like specific things. In other words, mass media does have the power to attract people.
Thus, one must consider what kind of things people like, at which times, and what it is that attracts them to particular media—which is what AX is all about.
Meanwhile, AX sophistication not only increases the efficacy of advertising, but also supports the invigoration of media while creating opportunities for companies to provide ongoing marketing communications. Dentsu wants to promote these efforts with the aim of creating synergies between advertising and media.
Author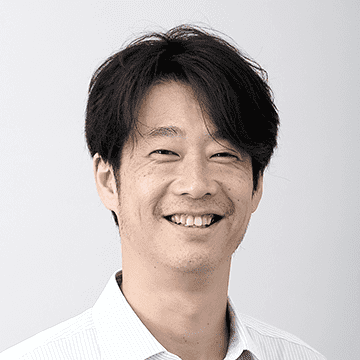 Taira Fusegawa
Chief of Next-Generation Broadcasting
Executive Media & Digital Director
Radio, TV Business Produce Division
After having been dispatched to an affiliate in Japan for 16 years, Taira Fusegawa returned to the Radio and Television Division five years ago. She then set up the TVer advertising business and STADIA; engaged in the promotion of both the digitalization and digitization of radio and television; and started the visualization of radio using radiko. In addition to radio and television, Fusegawa is currently in charge of transformation in all areas of media and content.